DDT "Dramatic 2017 March Special ~ Road to Super Arena", 3/5/2017 [Sun] 13:00 @ Asakusa-bashi Hulic Hall in Tokyo
405 Spectators (overcrowded)
(1) Kouki Iwasaki & Guanchulo vs. Makoto Oishi & Shunma Katsumata
♦Winner: Oishi (7:30) with a Miracle Ecstacy on Guanchulo.
(2) Akito & Yasu Urano vs. Kazusada Higuchi & Mizuki Watase
♦Winner: Akito (9:55) with the Hanamasa on Watase.
(3) KUDO vs. MAO
♦Winner: KUDO (8:33) following a Diving Double Knee Drop.
(4) Yoshihiro Takayama, Danshoku Dino & Keisuke Ishii vs. Sanshiro Takagi, Toru Owashi & Kazuki Hirata
♦Winner: Takayama (7:48) following a Running Knee Lift on Hirata.
(5) DAMNATION vs FREEDOMS: Daisuke Sasaki & Mad Paulie vs. Jun Kasai & GENTARO
♦Winner: GENTARO (13:55) with a School Boy on Paulie.
(6) Shuten-Doji vs DAMNATION: Yukio Sakaguchi & Masahiro Takahashi vs. Shuji Ishikawa & Tetsuya Endo
♦Winner: Ishikawa (10:08) with the Splash Mountain on Sakaguchi.
~ Ishikawa with a direct win over the KO-D Tag Champion before the title match in Saitama on 3/20.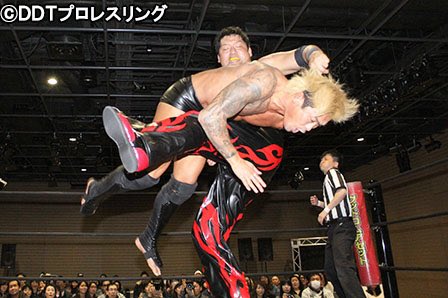 (7) ROAD TO SSA MAIN EVENT Special Tag Match: HARASHIMA & Soma Takao vs. Konosuke Takeshita & Antonio Honda
♦Winner: DRAW (30:00) Time Expired.
~ The final prelude match ends in a draw as respect was shown between the KO-D Champion and challenger as their next face-to-face will be on March 20.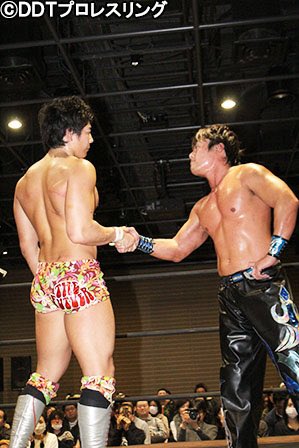 http://puroresuspirit.net/tag/ddt/
Upcoming…
DDT "Judgement 2017 ~ DDT 20th Anniversary Show", 3/20/2017 [Mon] 13:00 @ Saitama Super Arena
() Tokyo Joshi Offer Dark Match: Yuu, Mil Crown & Maki Ito vs. Reika Seiki, Rika Tatsumi & Azusa Takaiwa
() DNA Offer Dark Match: Recca, Daiki Shimomura & Yuki Ueno vs. Nobuhiro Shimatani, Naomi Yoshimura & Dai Suzuki
() Dark Match ~ DDT Iron Man Heavy Metal Championship ~ 20th Anniversary Dramatic Rumble: MIKAMI, GENTARO, Bambi, Rion Mizuki…
() Super Girls Pro Wars 2017: Saki Akai, Akiko Satonami & Shoko Nakajima vs. Aja Kong, Cherry & Miyu Yamashita
() Special 8 Man Tag Match: Toru Owashi, Kazuki Hirata, Antonio Honda & Guanchulo vs. Jaguar Yokota, Yuni, Keisuke Ishii & Masahiro Takanashi
() Special Single Match: Shigehiro Irie vs. Mike Bailey
() DDT 20th Anniversary Match ~ Worldwide Best in the World Dangerous Guy Showdown: Danshoku Dino vs. Joey Ryan
~ DDT is giving an early warning that this match will be explicit in nature.
() Shungo Oyamo Pro-Wrestling Challenge Match: Yoshihiro Takayama & Dick Togo vs. KUDO & Shungo Oyama
() KO-D 6 Tag Championship 3WAY Match: [Champion] Kazusada Higuchi, Kouki Iwasaki & Mizuki Watase vs. [Challengers] Soma Takao, Akito & Yasu Urano vs. [Challengers] Makoto Oishi, Shunma Katsumata & MAO
() Sengoku Commander Match: Sanshiro Takagi, Keiji Mutoh & Isami Kodaka vs. Kota Ibushi, Jun Akiyama & Daisuke Sekimoto
(-) DDT EXTREME Championship Hardcore Match: [38th Champion] Jun Kasai vs. [Challenger] Daisuke Sasaki
~ 4th title defense.
(-) KO-D Tag Championship Match: [Champions] Masakatsu Funaki & Yukio Sakaguchi vs. [Challengers] Shuji Ishikawa & Tetsuya Endo
~ 2nd title defense.
(-) KO-D Openweight Championship Match: [60th Champion] HARASHIMA vs. [Challenger] Konosuke Takeshita
~ 4th title defense.