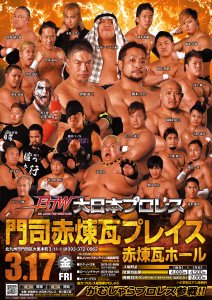 BJW, 3/17/2017 [Fri] 18:30 @ Mojiaka Renga Place, Red Brick Hall in Fukuoka
(1) Takumi Tsukamoto (BASARA) & Yuya Aoki
♦Winner: Tsukamoto (6:26) following a Fisherman Buster.
(2) Ryuji Ito & Ryuichi Sekine (BASARA) vs. Kankuro Hoshino & Toshiyuki Sakuda
♦Winner: Sekine (10:17) following the Ryu Shooto on Sakuda.
(3) Ryota Hama (FREE) & Tuerno Guerrero (Gamushara) vs. Yasufumi Nakanoue (FREE) & Tatsuhiko Yoshino
♦Winner: Hama (7:54) with the Ookido Press on Yoshino.
(4) Daichi Hashimoto & Hideyoshi Kamitani vs. Kazuki Hashimoto & Kazumi Kikuta
♦Winner: Daichi (8:42) following the Karyudo on Kikuta.
(5) Daisuke Sekimoto & Yuji Okabayashi vs. Ryuichi Kawakami & Yoshihisa Uto
♦Winner: Sekimoto (10:27) with an Argentine Backbreaker on Uto.
(6) Hardcore 6 Man Tag Match: Abdullah Kobayashi, Takayuki Ueki & Masaya Takahashi vs. Jaki Numazawa, Minoru Fujita (FREE) & Masashi Takeda (FREE)
♦Winner: Kobayashi (17:20) with the Diving Baka Chinga Elbow Drop on Fujita.
BJW Event Cards for March & April 2017
http://puroresuspirit.net/2017/02/bjw-event-cards-for-march-april-2017/