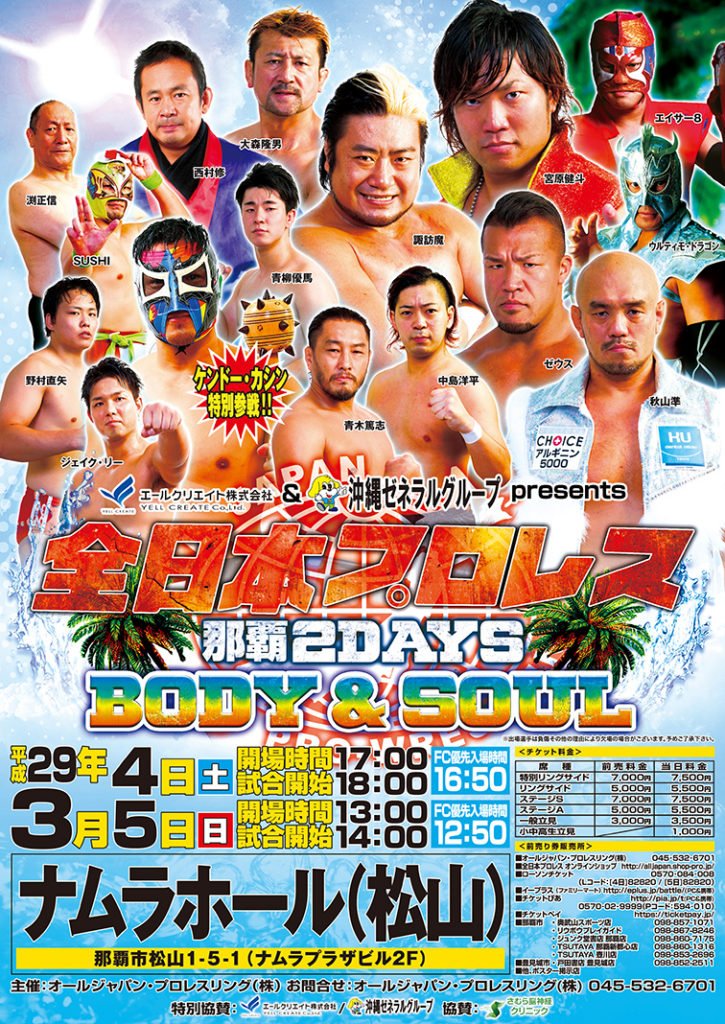 Yell Creation & Okinawa General Group presents All Japan Pro-Wrestling Naha 2-Days ~BODY & SOUL~, 3/4/2017 [Sat] 18:00 @ Naha City Namura Hall in Okinawa
566 Spectators (crowded)
(1) Masanobu Fuchi vs. Yusuke Okada
◆Winner: Fuchi (8:51) with a Small Package.
(2) Yohei Nakajima & Eisa 8 (FREE) vs. SUSHI (FREE) & Tearan Seaser (K-DOJO)
◆Winner: Yohei (10:43) following the Tobiushiro Mawashigeri on SUSHI.
(3) Ultimo Dragon & Hibiscus Mii (Ryukyu Dragon) vs. Osamu Nishimura (FREE) & Ultra Soki (Ryukyu Dragon)
◆Winner: Mii (11:47) with a Small Package on Soki.
(4) Yuma Aoyagi vs. Koji Iwamoto
◆Winner: Iwamoto (14:31) with a German Suplex Hold.
~ Iwamoto stated that he has a new move potentially in store for his upcoming first challenge for the World Junior belt.
(5) Takao Omori vs. Jake Lee
◆Winner: Omori (12:23) following an Axe Bomber.
(6) Jun Akiyama, Kendo Kashin (FREE) & KAI (FREE) vs. Suwama, Atsushi Aoki & Hikaru Sato
◆Winner: KAI (15:13) with a Thunder Fire Powerbomb on Hikaru.
(7) Kento Miyahara & Naoya Nomura vs. Zeus & The Bodyguard (FREE)
◆Winner: Zeus (21:49) with a Jackhammer on Nomura.
~ Zeus declared that he has his eyes set on winning the Champion Carnival and getting a rematch against Miyahara.
AJPW Event Cards for March & April 2017
http://puroresuspirit.net/2017/02/ajpw-event-cards-for-march-april-2017/