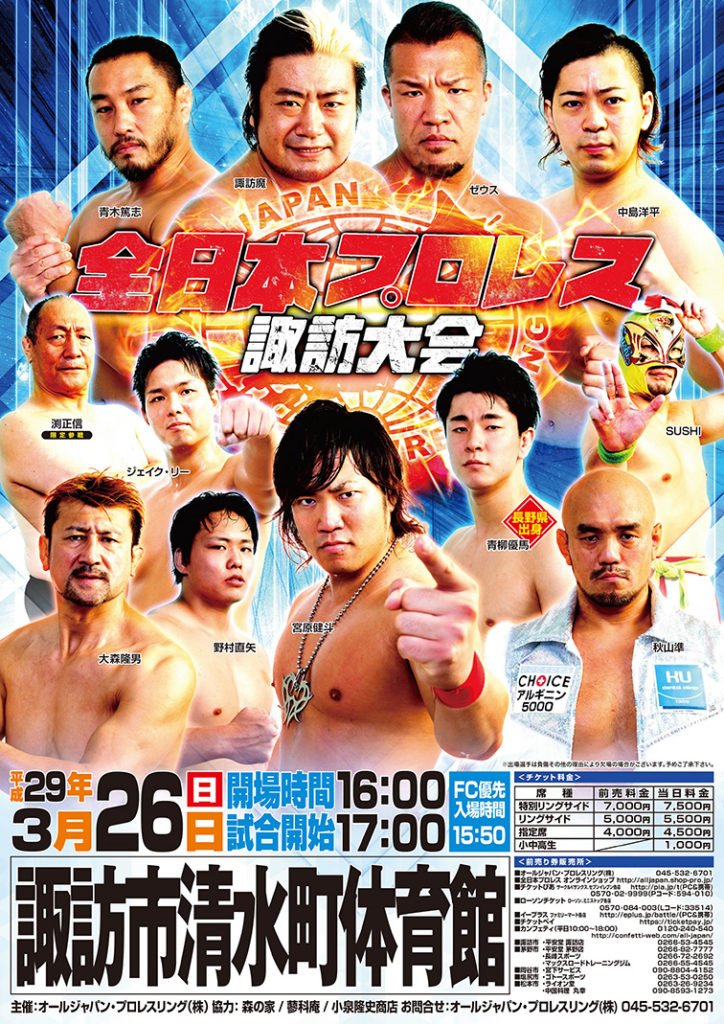 All Japan Pro-Wrestling "2017 Dream Power Series", 3/26/2017 [Sun] 17:00 @ Suwa City Shimizu-cho Gymnasium in Nagano
(1) Shinshu Pro Offer Match: Maruko Masukudo & Hiroshi Tsunagi vs. THE Yotchan & Ninjiyari-banban
♦Winner: Masukudo & Tsunagi (8:26) via double pin-fall on Yotchan and Ninjiyari.
(2) Koji Iwamoto vs. Yusuke Okada
♦Winner: Iwamoto (7:23) with a Boston Crab.
(3) Takao Omori & Atsushi Maruyama (FREE) vs. Yohei Nakajima & KAI (FREE)
♦Winner: Omori (10:37) following an Axe Bomber on Yohei.
(4) Jun Akiyama, Kendo Kashin (FREE) & Masao Inoue (FREE) vs. Suwama, Atsushi Aoki & Hikaru Sato
♦Winner: Suwama (14:11) with the Manriki Sleeper on Inoue.
~ A mysterious "ghillie man" appeared as he and Hikaru helped carry Inoue out of the arena.
(5) Evolution vs NEXTREAM ~ I LOVE NAGANO ~: Joe Doering vs. Yuma Aoyagi
♦Winner: Doering (6:57) with the Revolution Bomb.
~ Doering raised Aoyagi's arm after the match as he told the young up-and-comer to get stronger.
(6) The Road to 2017 Champion Carnival ~ Jump Up ~: Kento Miyahara, Jake Lee & Naoya Nomura vs. Zeus, Ryoji Sai (LAND'S END) & Shuji Ishikawa (FREE)
♦Winner: Zeus (26:15) with a Jackhammer on Miyahara.
~ Following the loss to KAI on 3/20, the Triple Crown Champion Miyahara suffers another direct loss this time to Zeus.
~ Zeus declared that he shall win the upcoming Champion Carnival and go on to capture the Triple Crown belt.