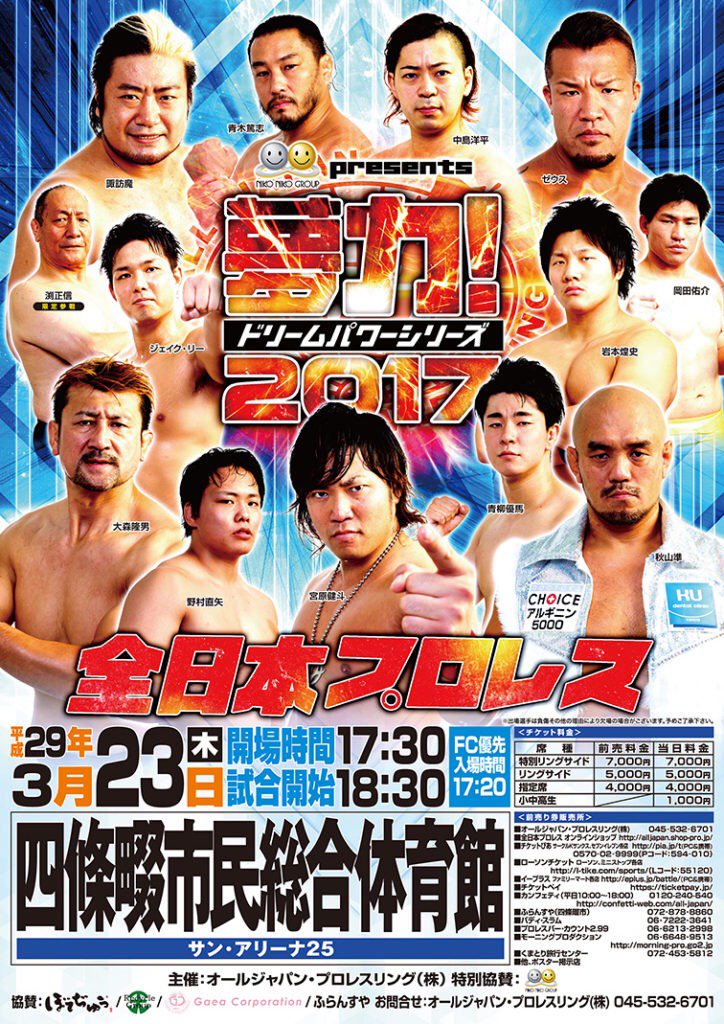 All Japan Pro-Wrestling "2017 Dream Power Series", 3/23/2017 [Thu] 18:30 @ Shijyo Citizen General Gymnasium in Osaka
471 Spectators (packed)
(1) Yohei Nakajima vs. Yusuke Okada
♦Winner: Yohei (5:09) following a Diving Foot Stomp.
(2) Ultimo Dragon (Toryumon MEXICO) & Minoru Tanaka (FREE) vs. Atsushi Maruyama (FREE) & Billyken Kid (FREE)
♦Winner: DRAW (20:00) Time Expired.
(3) Jun Akiyama, Ultimate Spider Jr. (Osaka) & Takoyakida (FREE) vs. Mitsuya Nagai (DRADITION), Black Tiger VII (FREE) & Takeshi Minamino (FREE)
♦Winner: Nagai (9:24) following the ROD on Takoyakida.
~ Black Tiger continued to provoke Suwama after the match.
(4) Takao Omori & Koji Iwamoto vs. Atsushi Aoki & Hikaru Sato
♦Winner: Hikaru (13:16) with a Captured Cross Armbar on Iwamoto.
~ Hikaru with the win over the Jr. League winner as he claims more momentum heading into next months World Junior challenge.
(5) The Road to 2017 Champion Carnival ~ Message ~: Suwama & Joe Doering vs. Jake Lee & Ryoji Sai (LAND'S END)
♦Winner: Doering (11:58) with a Revolution Bomb on Lee.
(6) Kento Miyahara, Naoya Nomura & Yuma Aoyagi vs. Zeus, The Bodyguard (FREE) & KAI (FREE)
♦Winner: Bodyguard (15:06) with the Bounce on Aoyagi.
~ Bodyguard with the win in his hometown of Osaka. As he stated that he wants to see himself and Zeus make it to the finals of the upcoming Champion Carnival.