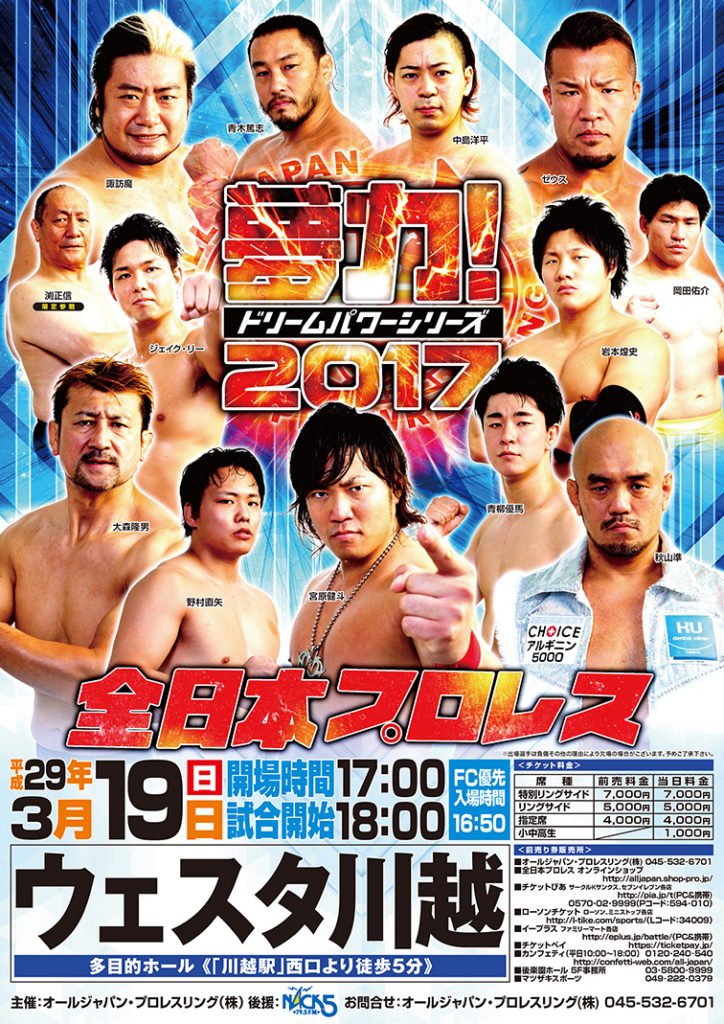 All Japan Pro-Wrestling "2017 Dream Power Series", 3/19/2017 [Sun] 18:00 @ Westa Kawagoe Multi-purpose Hall
(1) Masanobu Fuchi vs. Yusuke Okada
♦Winner: Fuchi (8:23) with a Small Package Hold.
(2) Takao Omori & Daichi Kazato (BASARA) vs. Yohei Nakajima & Masao Inoue (FREE)
♦Winner: Omori (9:37) following an Axe Bomber on Inoue.
(3) Jun Akiyama & SUSHI (FREE) vs. Mitsuya Nagai (DRADITION) & Black Tiger VII (FREE)
♦Winner: Nagai (9:55) following the ROD on SUSHI.
~ Nagai called out Akiyama for a shot at the GAORA TV belt.
(4) Zeus & Shuji Ishikawa (FREE) vs. Ryoji Sai & Rikiya Fudo (both LAND'S END)
♦Winner: Zeus (10:14) with a Jackhammer on Fudo.
(5) Koji Iwamoto vs. KAI (FREE)
♦Winner: KAI (11:56) with a Thunder Fire Powerbomb.
(6) NEXTREAM vs Evolution: Atsushi Aoki & Hikaru Sato vs. Naoya Nomura & Yuma Aoyagi
♦Winner: Hikaru (19:58) via pin-fall on Aoyagi.
(7) NEXTREAM vs Evolution: Kento Miyahara & Jake Lee vs. Suwama & Joe Doering
♦Winner: Suwama (17:27) following a Last Ride on Lee.
~ The full event cards were updated for the Champion Carnival tour of shows next month. With the addition of Dory Funk Jr. and his student Dalton Drellich.
AJPW Event Cards for March & April 2017
http://puroresuspirit.net/2017/02/ajpw-event-cards-for-march-april-2017/