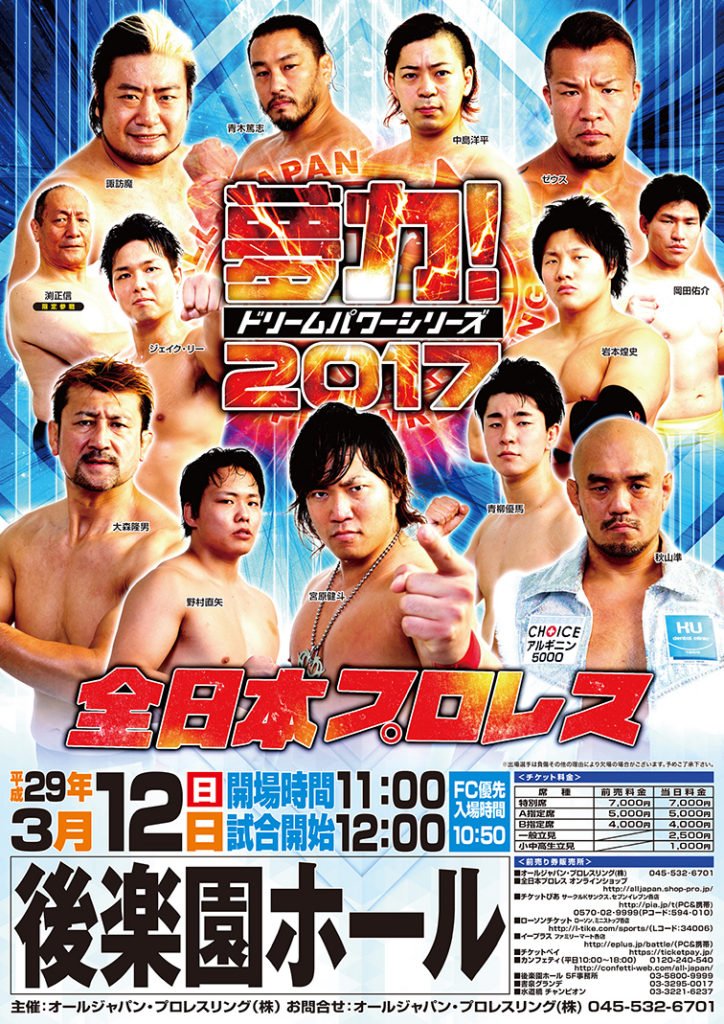 All Japan Pro-Wrestling "2017 Dream Power Series", 3/12/2017 [Sun] 12:00 @ Korakuen Hall in Tokyo
1,195 Spectators
(1) Opeining Dream: Yohei Nakajima, Osamu Nishimura (FREE) & Yusuke Okada vs. Yutaka Yoshie (FREE), Ultimo Dragon (Toryumon MEXICO) & Fuminori Abe (Sportiva)
◆Winner: Yoshie (8:09) with a Running Body Press on Yusuke.
(2) Over The Future: Yuma Aoyagi vs. Atsushi Maruyama (FREE)
◆Winner: Maruyama (8:50) following a TAJIRI style Buzzsaw Kick.
(3) 45th Anniversary – 30 Years of the World Junior Heavyweight Championship Special Festival of Champions! Special 6 Man Tag Match: Atsushi Aoki (37 & 39th), Hiro Saito (1st), Hikaru Sato (40th) vs. Masanobu Fuchi (3,6,10,12,15th), Minoru Tanaka (29th) & Soma Takao (41st)
◆Winner: Hikaru (14:03) with a Capture style Cross Armbar on Fuchi.
~ Hikaru with the win over the Asia Tag Champion, though with winning this match he earns the next shot at the World Junior belt.
(4) The Road to 2017 Champion Carnival ~ Resistance: Suwama & Jake Lee vs. Ryoji Sai (LAND'S END) & Naoya Nomura
◆Winner: Suwama (10:40) following a Last Ride on Nomura.
~ Great Nita did indeed appear as he confronted Suwama and blasted him and Atsushi Aoki with a mist attack. Suwama finally agreed to a challenge against him at his self-produce show on May 28 in Chigasaki.
(5) GAORA TV Championship Match: Jun Akiyama vs. KENSO (FREE)
◆Winner: Akiyama (9:28) following a Wrist Clutch style Exploder.
~ Akiyama becomes the 15th champion.
(6) World Junior Heavyweight Championship Match: [42nd Champion] Keisuke Ishii (DDT) vs. [Challenger] Koji Iwamoto
◆Winner: Keisuke (14:00) following a Kneel Kick.
~ 3rd successful title defense.
~ Hikaru appeared after the match as he asserted his claim as the next challenger.
(7) The Road to 2017 Champion Carnival ~ Anthology: Kento Miyahara, Shuji Ishikawa (FREE) & KAI (FREE) vs. Takao Omori, Zeus & The Bodyguard (FREE)
◆Winner: Omori (10:16) following an Axe Bomber on Ishikawa.
~ Omori with the solid win before the start of the CC. KAI stated that he aims to overcome Miyahara in the league as well.
~ All the Champion Carnival matches were announced today, as such the event cards have been updated. (The rest of the matches, full cards, will be announced soon.)
AJPW Event Cards for March & April 2017
http://puroresuspirit.net/2017/02/ajpw-event-cards-for-march-april-2017/