"Shinsei ZERO1 Dream Series ~ Battle of Destruction", 2/3/2017 [Fri] @ Korakuen Hall in Tokyo
(1) Chris Orndorff vs. Takuya Nomura (BJW)
◆Winner: Takuya (6:18) with a Cross Armbar.
(2) Ikuto Hidaka & Sean Guinness vs. Takuya Sugawara & Shuji Kondo (W-1)
◆Winner: Guinness (10:12) with a Firebird Splash on Sugawara.
(3) KAMIKAZE & Yoshikazu Yokoyama vs. Taka Kunoh (Team Ota Akira) & Hayato Mashita (RJPW)
◆Winner: Kunoh () with a Single Leg Crab on Yokoyama.
(4) Tatsuhito Takaiwa, Minoru Tanaka & Koji Kanemoto (all FREE) vs. Isami Kodaka, Takumi Tsukamoto & Trans Am ☆ Hiroshi (all BASARA)
◆Winner: Kodaka (11:01) with a European Clutch on Takaiwa.
(5) 360 Channel Presents VR Special Tag Match: Masato Tanaka & James Raideen vs. Yoshihiro Takayama (FREE) & Yusaku Obata
◆Winner: Tanaka (16:50) following a Sliding D on Obata.
~ Respect was not shown between Tanaka and Obata after the match.
~ The Tenkaichi Junior Tournament was announced to be held this April.
(6) NWA Intercontinental Tag Championship Match: [33rd Champions] TARU & Hartley Jackson vs. [Challengers] Akebono (Oudou) & Shogun Okamoto (FREE)
◆Winner: Okamoto (6:11) following a Backdrop on Hartley.
~ Champions fall on their first defense. "SMOP" Akebono & Okamoto become the 34th champions.
~ TARU threatened Okamoto during the backstage interview as he has been trying to get the former sumo to join the Voodoo Murders. He felt betrayed to have lost the titles as he did tonight.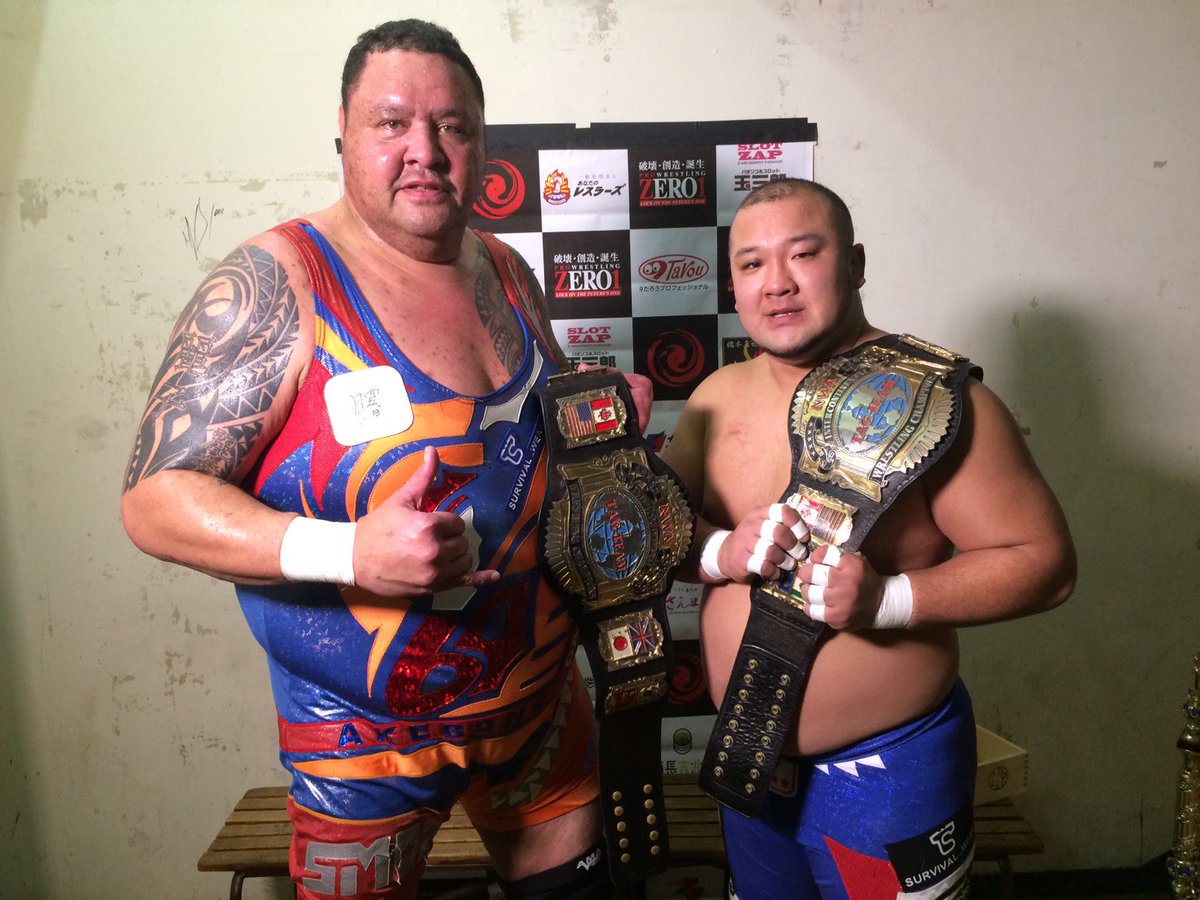 (7) NWA World Jr & International Jr Heavyweight Double Crown Championship Match: [118th & 18th Champion] Shinjiro Otani vs. [Challenger] Kotaro Suzuki (FREE)
◆Winner: Kotaro (18:45) with a Misawa style Tiger Driver.
~ Champion falls on his 4th title defense. Kotaro becomes the 119th NWA World Junior and 19th International Junior champion.
~ Kotaro declared that he still has much to do as a junior wrestler. That he doesn't want to make the junior class nothing more than a stepping stone to the heaviest, that he still has much to prove and do with the junior talent that exists in Japan. That he will show that junior wrestling can be just as strong as the heavyweights.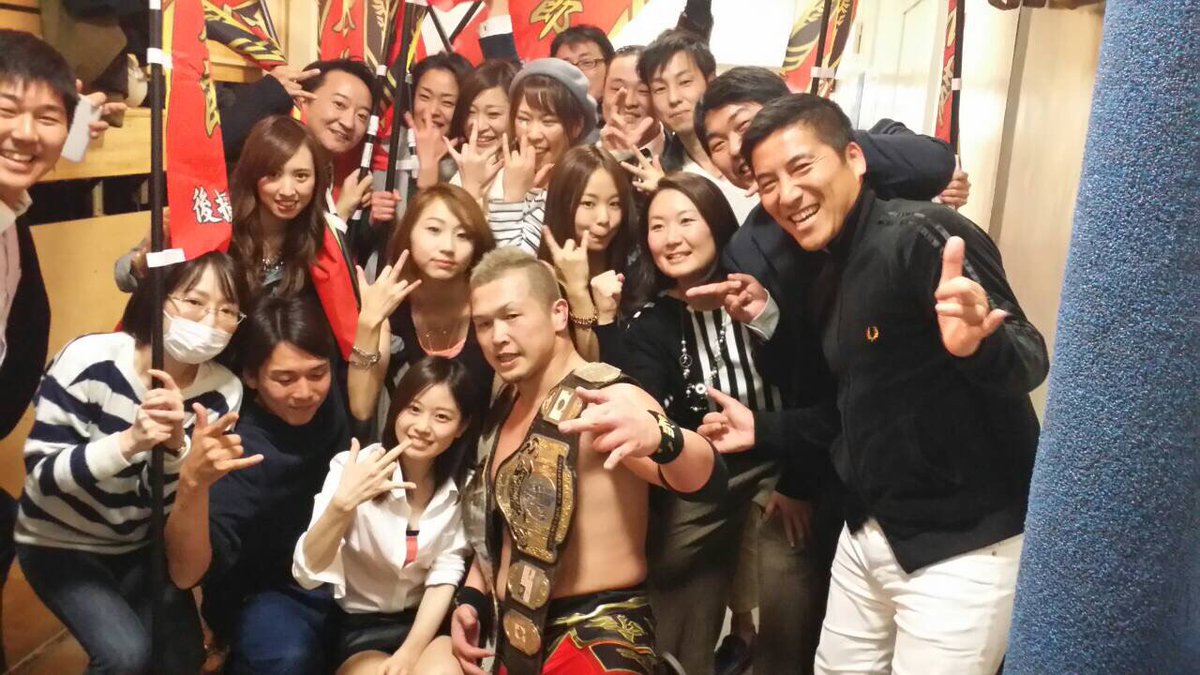 (8) World Heavyweight Championship Match: [Champion] Kohei Sato vs. [Challenger] KAI (FREE)
◆Winner: DRAW (30:00) Time Expired.
~ 3rd successful defense.
~ Respect was shown between the two following the match as Kohei welcomed a rematch in the future. Though he defended the belt it was without a direct fall victory he will move forward to be a defending champion for ZERO1.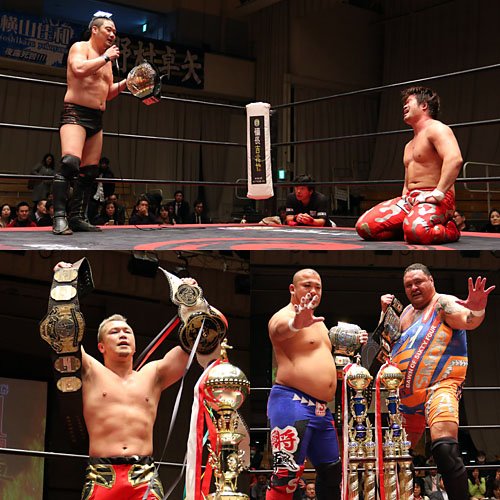 http://puroresuspirit.net/tag/zero1/
Upcoming…
ZERO1, 2/4/2017 [Sat] @ Takeshiba Coliseum in Tokyo
() Yoshikazu Yokoyama vs. Chris Orndorff
() Yusaku Obata & Sean Guinness vs. KAMIKAZE & Hartley Jackson
() Ikuto Hidaka vs. Takuya Sugawara
() Kohei Sato & Shinjiro Otani vs. Masato Tanaka & James Raideen
ZERO1, 2/5/2017 [Sun] @ Takeshiba Coliseum in Tokyo
() Ikuto Hidaka & Sean Guiness vs. KAMIKAZE & Takuya Sugawara
() Yoshikazu Yokoyama vs. Chris Orndorff
() James Raideen vs. Hartley Jackson
() Kohei Sato & Shinjiro Otani vs. Masato Tanaka & Yusaku Obata