AJPW NEWS
The wrestlers for this years " 2017 Champion Carnival" were announced.

This year marks the 45th anniversary for All Japan Pro-Wrestling and it looks like they are offering a potential solid tournament to make the occasion. The A BLOCK will feature last years winner Daisuke Sekimoto, who is also the current BJW World Strong and BJW Tag Champion, along with the Triple Crown Champion Kento Miyahara, Zeus, Joe Doering, KAI, Ryoji Sai, and Jake Lee. Then the B BLOCK will feature Suwama, Takao Omori, Shuji Ishikawa, The Bodyguard, Kengo Mashimo, Daichi Hashimoto, and Naoya Nomura.
This will mark Doering's return to the Carnival after suffering from a malignant brain tumor just this time last year. Doering has overcome the illness and looks to return to his previous rampaging form. KAI made his return to All Japan today as he looks to start competing in All Japan for a chance at the Triple Crown belt. Originally growing into a potential strong position among the heavyweights back in 2012-2013 he looks take his career into his own hands to achieve the title that has alluded him after the misstep of leaving the promotion years ago.
Among those who will be competing for the first time ever in the Carnival are Shuji Ishikawa and Daichi Hashimoto. Ishikawa, in particular, has shown himself to be a strong competitor in the promotion and being in the same block as Suwama will surely be one of the early must see matches.
Among those not competing is Jun Akiyama, who instead has been placed himself in challenging for the GAORA TV belt against the returning KENSO. That match is set to take place on March 12. (KENSO being the one who sent the letter demanding that the vacant belt be put back on his waist. Akiyama more or less was having non of KENSO's demands as the match has been set.)
"2017 Champion Carnival – 45th Anniversary Commemorative Series"
A BLOCK
・Kento Miyahara ~ Reining Triple Crown Champion
・Daisuke Sekimoto (BJW) [2016 Winner] ~ Reining BJW World Strong & BJW Tag Champion
・Zeus ~ Current World Tag Champion
・Joe Doering
・Jake Lee
・Ryoji Sai (LAND'S END)
・KAI (FREE)
B BLOCK
・Suwama [2008 Winner]
・Takao Omori [2014 Winner]
・Naoya Nomura
・Shuji Ishikawa (FREE)  ~ First appearance
・Kengo Mashimo (K-DOJO) ~ Current CHAMPION OF STRONGEST-K
・The Bodyguard (FREE)  ~ Current World Tag Champion
・ Daichi Hashimoto (BJW) ~ First appearance
Tour Dates
・ 4/16 [Sun] 12:00 @ Korakuen Hall in Tokyo
・ 4/18 [Tue] 18:30 @ Big Palette Fukushima
・ 4/19 [Wed] 18:30 @ Hachinohe Seagull View Hotel Gymnasium
・ 4/20 [Thu] 18:30 @ Dream Messe Miyagi, West Building
・ 4/22 [Sat] 18:00 @ Shinagawa Prince Hotel Stella Ball in Tokyo, 18:00
・ 4/23 [Sun] 17:00 @ Aore Nagaoka in Niigata
・ 4/25 [Tue] 18:30 @ Nagoya International Conference Hall in Aichi
・ 4/26 [Wed] 18:30 @ EDION Arena Osaka, 2nd Stadium
・ 4/28 [Fri] 18:30 @ Okayama Prefecture Oroshi Center, Orange Hall
・ 4/29 [Sat] 18:00 @ Marina Hop in Hiroshima
・ 4/30 [Sun] 16:00 @ Hakata StarLanes in Fukuoka
http://puroresuspirit.net/tag/ajpw/
---
Mr. Gannosuke Produce News
~ Mr. Gannosuke announced the full card for his upcoming show, Kishindo Returns, which is scheduled to take place on March 7 at Shinkiba 1stRING.
Kishindo Returns 21, 3/7/2017 [Tue] 19:00 @ Shinkiba 1stRING in Tokyo
() Mil Hadacaras & Micro vs. Papillon Akemi Koharu Hinata
() Mineo Fujita vs. Tatsuhiko Yoshino
() Yasu Urano vs. Konaka = Pale One
() KAI vs. Atsushi Maruyama
() Jun Kasai vs. Magnitude Kishiwada
() Yuko Miyamoto vs. Buffalo
() Mr. Gannosuke vs. Isami Kodaka
---
WRESTLE NEWS
~ Hana Kimura versus Kagetsu was announced for the ACE show on February 25.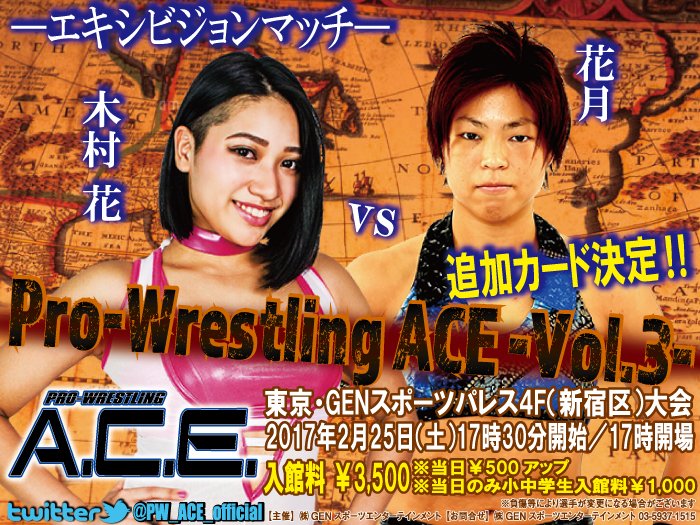 Pro-Wrestling A.C.E. – Vol.2 -, 2/25/2017 [Sat] @ GEN Sports Palace (W-1 Dojo) in Tokyo 
Newly announced…
(-) Hana Kimura vs. Kagetsu
Previously announced…
(-) Exhibition Match: Tatsuro Kami vs. Soma Watanabe
(-) Exhibition Match: Taka Satotsugu vs. Manabuto Yasuda
(-) Exhibition Match: Ichi Nomura vs. Miguel
(-) Seigo Tachibana & Yuya Susumu (FREEDOMS) vs. Ganseki Tanaka & Takuya Nomura (BJW)
(-) Andromeda KEN vs. Kaji Tomato (K-DOJO)
(-) Sho Shindo vs. Mineo Fujita (FREE)
(-) Jun Tonsho vs. Kenichiro Arai (DG)
~ The full event card was announced for the February 26 show.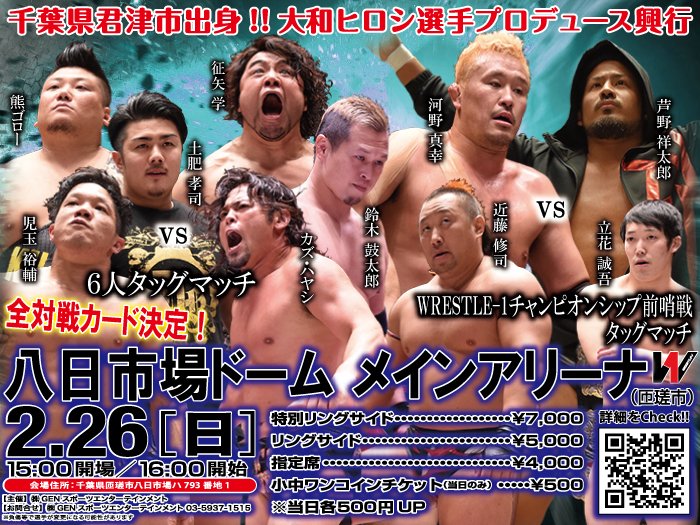 WRESTLE-1 TOUR 2017 W-IMPACT, 2/26/2017 [Sun] 16:00 @ Yokkaichi Market Dome, Main Arena in Chiba
() Kohei Fujimura vs. Ganseki Tanaka (A.C.E.)
() Andy Wu vs. Andromeda KEN (A.C.E.)
() Nao Kakuta (Actress girl'Z) vs. Shiori Akiba
() NOSAWA Rongai & Kenichiro Arai (DG) vs. Jun Tonsho & Sho Shindo (both A.C.E.)
() Daiki Inaba & Seiki Yoshioka vs. Hiroki Murase & Masayuki Mitomi (Ehime Pro)
() Masayuki Kono & Shuji Kondo vs. Shotaro Ashino & Seigo Tachibana
() Yusuke Kodama, Koji Doi & Kumagoro vs. Kaz Hayashi, Kotaro Suzuki (FREE) & Manabu Soya