KAIENTAI DOJO "K-3000", 2/4/2017 [Sat] 18:30 @ Blue Field in Chiba
(1) Shiori Asahi, Yuma & Bambi vs. Ricky Fuji, Marines Mask & ERINA
◆Winner: Yuma (11:08) following a Final Cut on Marines.
(2) Daigoro Kashiwa vs. Malik (UK)
◆Winner: Malik (7:42) following the Moneymaker Knee.
(3) Kaji Tomato & Shinichiro Tominaga (CWP) vs. Ayumu Honda & Kunio Toshima
◆Winner: Tominaga (6:49) with a Frankensteiner on Toshima.
~ Tominaga challenged Ayumu for a shot at the UWA World Middleweight belt. The match has been set for 3/20 at Kitasenju.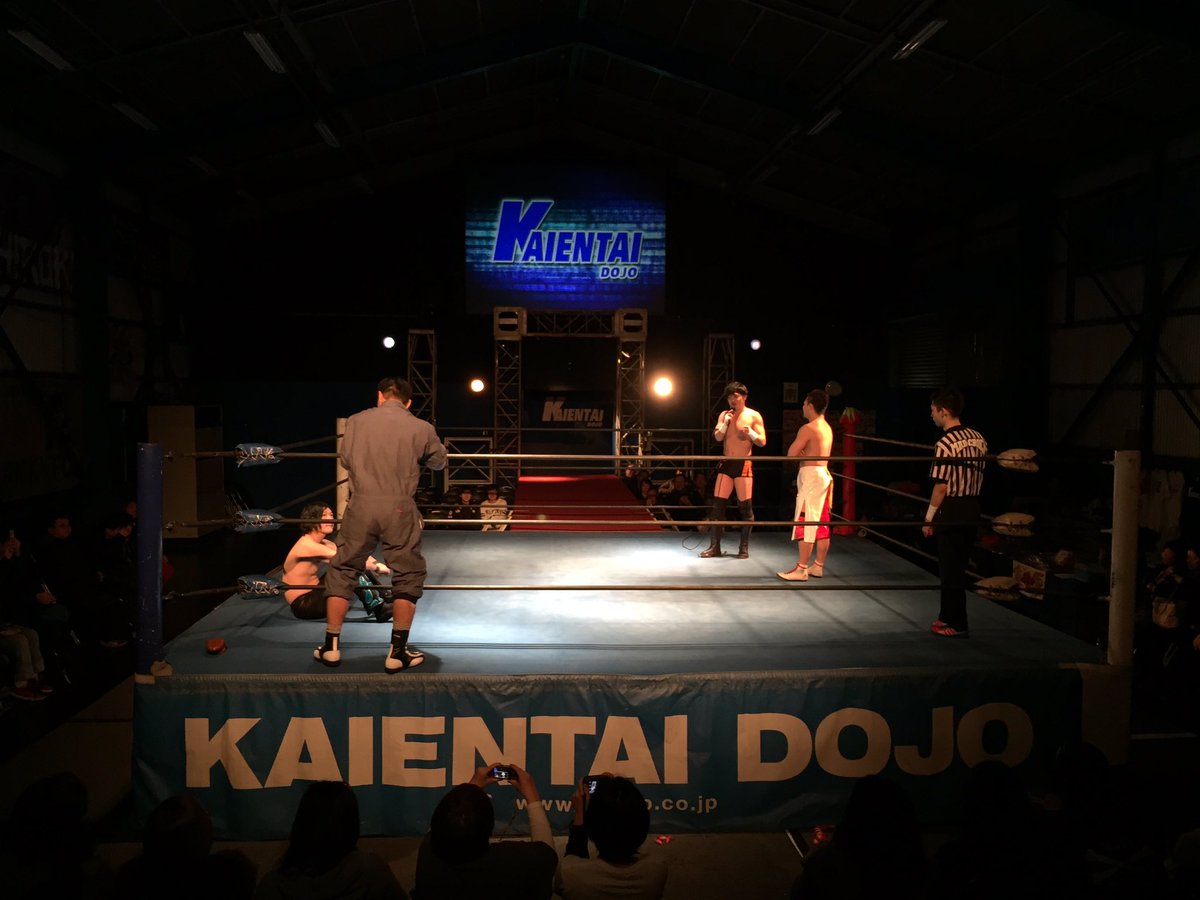 (4) Kotaro Yoshino & Yoshihiro Horaguchi vs. GO Asakawa & Dinosaur Takuma
◆Winner: Yoshino (9:25) with the Yoshino Splash on Dinosaur.
(5) CHAMPION OF STRONGEST-K & STRONGEST-K TAG Double Prelude 6 Man Tag Match: Kengo Mashimo, Tank Nagai & Yuki Sato vs. Taishi Takizawa, Ayato Yoshida & Kyu Mogami
◆Winner: Yuki (16:09) following the Miracle Rod on Mogami.
~ Yuki with the win over the ST-K TAG champion before the title challenge on 2/26.
(6) Saburo Festival Eve ~ 36 (Saburo) Second Time Difference Battle Royal:
~ Order of elimination : Horaguchi, Asakawa, Asahi, ERINA, Fuji, Yoshino, Takizawa, Toshima, Mashimo, Bambi, Yuma, Malik, Tank, Mogami, Marines, Yuki, Yoshida, Tominaga, Kaji, Ayumu, Kashiwa…
◆Winner: Dinosaur Takuma (16:36) sent Saburo over the top rope.
~ Tomorrow will be Saburo Inematsu's final show.
http://puroresuspirit.net/tag/k-dojo/
Upcoming…
"Saburo Inematsu Retirement Show – The First and Last Saburo Festival", 2/5/2017 [Sun] 14:00 @ Blue Field in Chiba
() Kengo Mashimo vs. DJ Nira (FREE)
() Ricky Fuji, Kaji Tomato & Ryuichi Sekine (BASARA) vs. Tank Nagai, Yuki Sato & Ayumu Honda
() Makoto Oishi (DDT) & Shiori Asahi vs. Kunio Toshima & PSYCHO (FREE)
() Daigoro Kashiwa, Hi69 (FREE) & Yasu Urano (DDT) vs. Ayato Yoshida, Kyu Mogami & GO Asakawa
() Saburo Inematsu Retirement Single Match: Saburo Inematsu vs. Yuji Hino (FREE)
KAIENTAI DOJO "CLUB-K in TKP Garden City Chiba", 2/26/2016 [Sun] 13:00 @ TKP Garden City Chiba
() Independent World Junior Heavyweight Championship Match: [Champion] Shiori Asahi vs. [Challenger] SUSHI
() STRONGEST-K TAG Championship Match: [Champions] Ayato Yoshida & Kyu Mogami vs. [Challengers] Tank Nagai & Yuki Sato
() CHAMPION OF STRONGEST-K Match: [Champion] Kengo Mashimo vs. [Challenger] Taishi Takizawa
KAIENTAI DOJO "CLUB-K in KITASENJU", 3/20/2017 [Mon] 12:00 @ Kitasenju Theater 1010 in Tokyo
() UWA World Middleweight Championship Match: [Champion] Ayumu Honda vs. [Challenger] Shinichiro Tominaga