FREEDOMS "FREEDOM Valentine 2017", 2/11/2017 [Sat] 18:30 @ Shinkiba 1stRING in Tokyo
303 Spectators (crowded)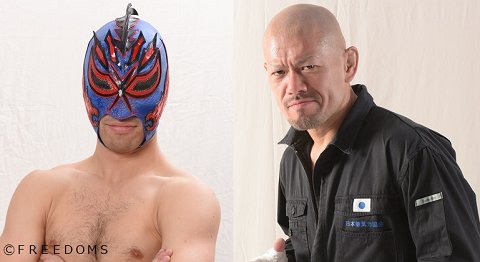 (1) Dragon Libre Single Match Trial Series: Dragon Libre vs. Kenichiro Arai (DG)
◆Winner: Arai (9:58) via counter pin-fall.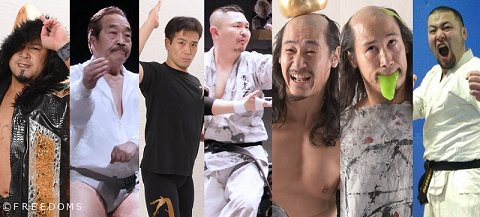 (2) Takashi Sasaki, Mitsuo Momota & Chikara w/ Karate Brahman vs. Shu Brahman, Kei Brahman & Karate Brahman #2 (Ryuichi Sekine)
◆Winner: Karate #2 (10:36) over Karate Brahman.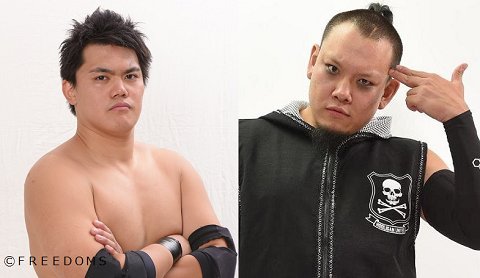 (3) Toru Sugiura vs. KAZMA SAKAMOTO (FREE)
◆Winner: KAZMA (9:03) with a School Boy.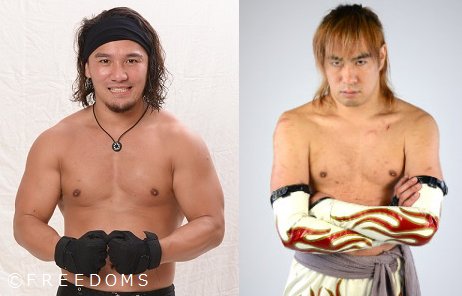 (4) Special Grappling Rules Single Match: Yuya Susumu vs. Isaki Kodaka (BASARA)
◆Winner: Isami (12:27) via pin-fall.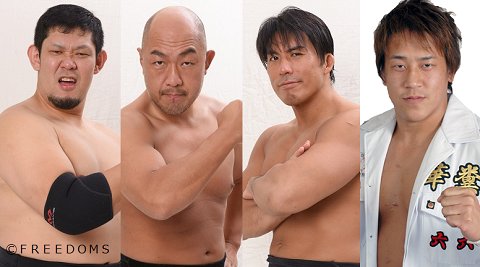 (5) Mammoth Sasaki & Tatsuhito Takaiwa (FREE) vs. GENTARO & Yuko Miyamoto (666)
◆Winner: GENTARO (14:56) with a Kido Clutch on Takaiwa.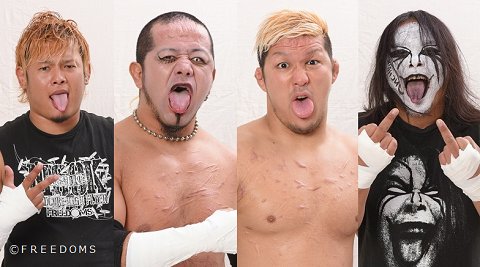 (6) Damz style Bring Your Own Weapons Fluorescent Light-tube Deathmatch: Daisuke Masaoka & Jun Kasai vs. Masashi Takeda (FREE) & Kenji Fukimoto
◆Winner: Fukimoto (16:43) following a Package Piledriver on Masaoka onto a gadget board.
~ Fukimoto with the win over the reigning KFC Champion, as he is receiving direct criticism from everyone, even his own partner today, in regards to his legitimacy as the champion.
~ Fukimoto stated that he is ready for the upcoming BJW "Ikkitosen" and that he aims to win.
http://puroresuspirit.net/tag/freedoms/
upcoming…
FREEDOMS, 2/19/2017 [Sun] 18:30 @ Hiroshima Industry Center West Building
() Tatsuhito Takaiwa & Dragon Libre vs. Tsuyoshi Okada & Yuki Aoki
() Takumi Tsukamoto & Kenichiro Arai vs. Kenshin Chikano & Devil Magician
() Mammoth Sasaki & Toru Sugiura vs. GUNSO & Rey Paloma
() KING of FREEDOM WORLD TAG CHAMPIONSHIP Match: [11th Champions] Yuya Susumu & HAYATA vs. [Challengers] Shu & Kei Brahman
~ 5th title defense.
() Yoshiaki Fujiwara & GENTARO vs. Masashi Takeda & Kenji Fukimoto
() Deathmatch: Daisuke Masaoka & Jun Kasai vs. Takashi Sasaki & Yuko Miyamoto