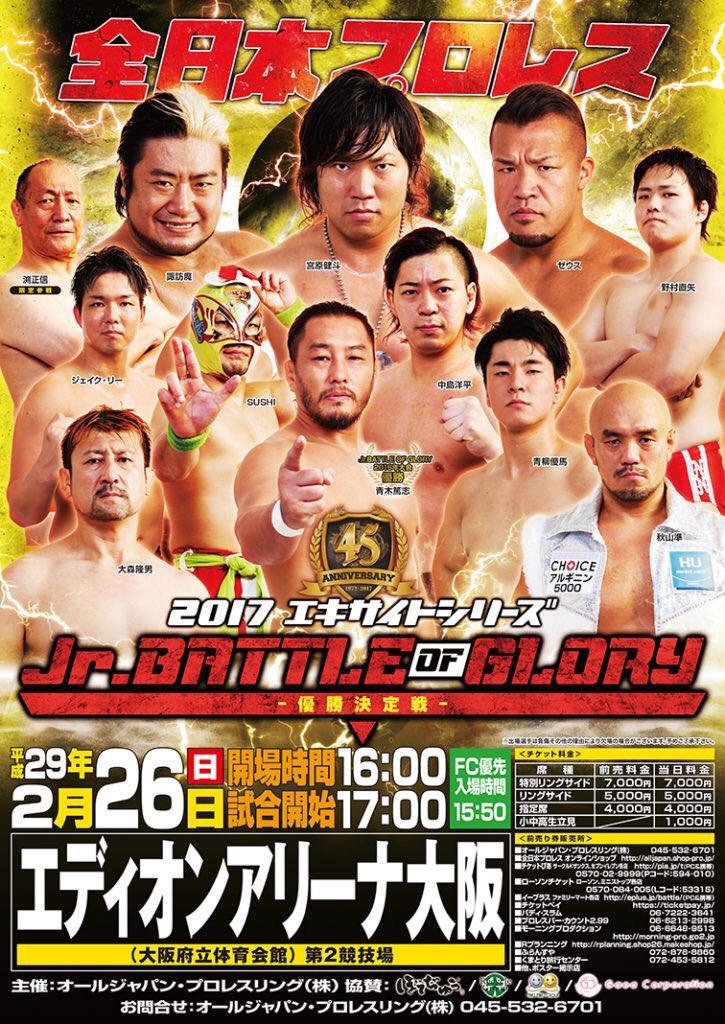 All Japan Pro-Wrestling "2017 Excite Series ~ Jr. BATTLE OF GLORY", 2/26/2017 [Sun] 17:00 @ EDION Arena Osaka, 2nd Stadium
877 Spectators (overcrowded)
(1) Jr. League ~ B BLOCK : Hikaru Sato vs. Yuma Aoyagi
◆Winner: Hikaru (4:08) via pin-fall.
~ Hikaru [2 wins, 1 loss, 1 draw = 5 points]
~ Aoyagi [1 win, 2 losses, 1 draw = 3 points]
~ Hikaru moves on as the finalist for the B BLOCK.
(2) Jr. League ~ A BLOCK : Masashi Takeda vs. Minoru Tanaka
◆Winner: Minoru (10:05) with the FIREBALL Splash.
~ Minoru [1 win, 2 losses, 1 draw = 3 points]
~ Takeda [1 win, 2 losses, 1 draw = 3 points]
(3) Jr. League ~ A BLOCK : Atsushi Aoki vs. Koji Iwamoto
◆Winner: DRAW (20:00) Time Expired.
~ Iwamoto [1 win, 2 draws, 1 NC = 4 points]
~ Aoki [1 win, 1 loss, 1 draw, 1 NC = 3 points]
~ With the most points, Iwamoto wins the right of the #1 spot and moves on to the final match later on tonight. 
(4) Zeus, KAI (FREE), Yohei Nakajima & Yusuke Okada vs. Yutaka Yoshie (FREE), Ryoji Sai (LAND'S END), Atsushi Maruyama (FREE) & Fuminori Abe (Sportiva)
◆Winner: Yoshie (7:54) with a Jumping Body Press on Yohei.
(5) Jun Akiyama & Keisuke Ishii (DDT) vs. Takao Omori & Kazuhiro Tamura (HEAT-UP)
◆Winner: Akiyama (10:33) following an Exploder on Tamura.
(6) Suwama & Joe Doering vs. Jake Lee & Naoya Nomura
◆Winner: Doering (10:51) with the Revolution Bomb on Nomura.
(7) Jr. League ~ Final Match : [A BLOCK #1] Koji Iwamoto vs. [B BLOCK #1]
◆Winner: Iwamoto (16:51) via referee stop, with a Katagatame.
~ Iwamoto wins the Jr BATTLE OF GLORY 2017, which this also being his very first appearance in it.
~ Iwamoto stated that that his next goal is to challenge Keisuke Ishii for the World Jr. belt. That he will bring the belt back to All Japan.
(8) Triple Crown Heavyweight Championship Match: [55th Champion] Kento Miyahara vs. [Challenger] The Bodyguard (FREE)
◆Winner: Miyahara (22:23) with the Shutdown German Suplex Hold.
~ 8th successful title defense.
~ Miyahara thanked everyone for coming out and supporting All Japan. Though he stated that his goal remains true as he looks to capture and create a new defense record for the Triple Crown belt. Miyahara is now ranked #2 in all-time defense.
~ Miayahra commended the 50 year for putting his all in the match. That he hopes all the fans enjoyed the match as he himself enjoyed the opportunity. That each match is a chance for him to continue growing and increasing his abilities in the ring.
~ Miyahara will celebrate his 28th birthday tomorrow.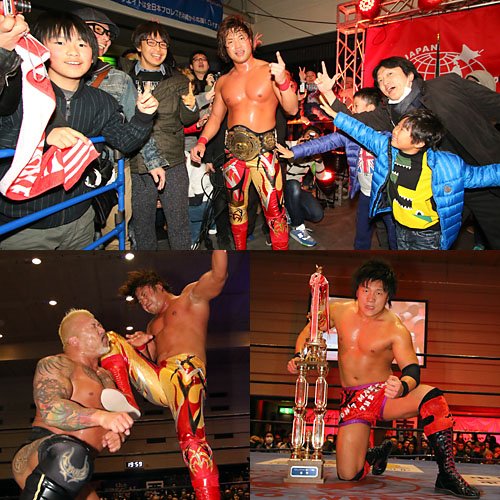 AJPW Event Cards for January & February 2017
http://puroresuspirit.net/2016/12/ajpw-event-cards-for-january-february-2017/