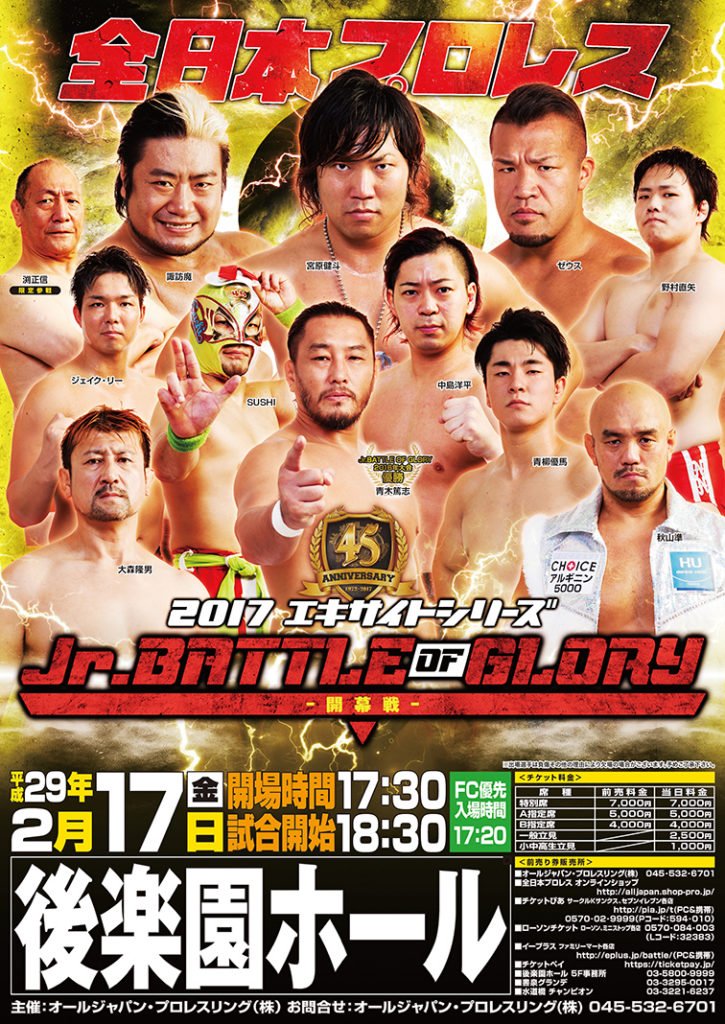 All Japan Pro-Wrestling "2017 Excite Series ~ Jr. BATTLE OF GLORY", 2/17/2017 [Fri] 18:30 @ Korakuen Hall in Tokyo
1,138 Spectators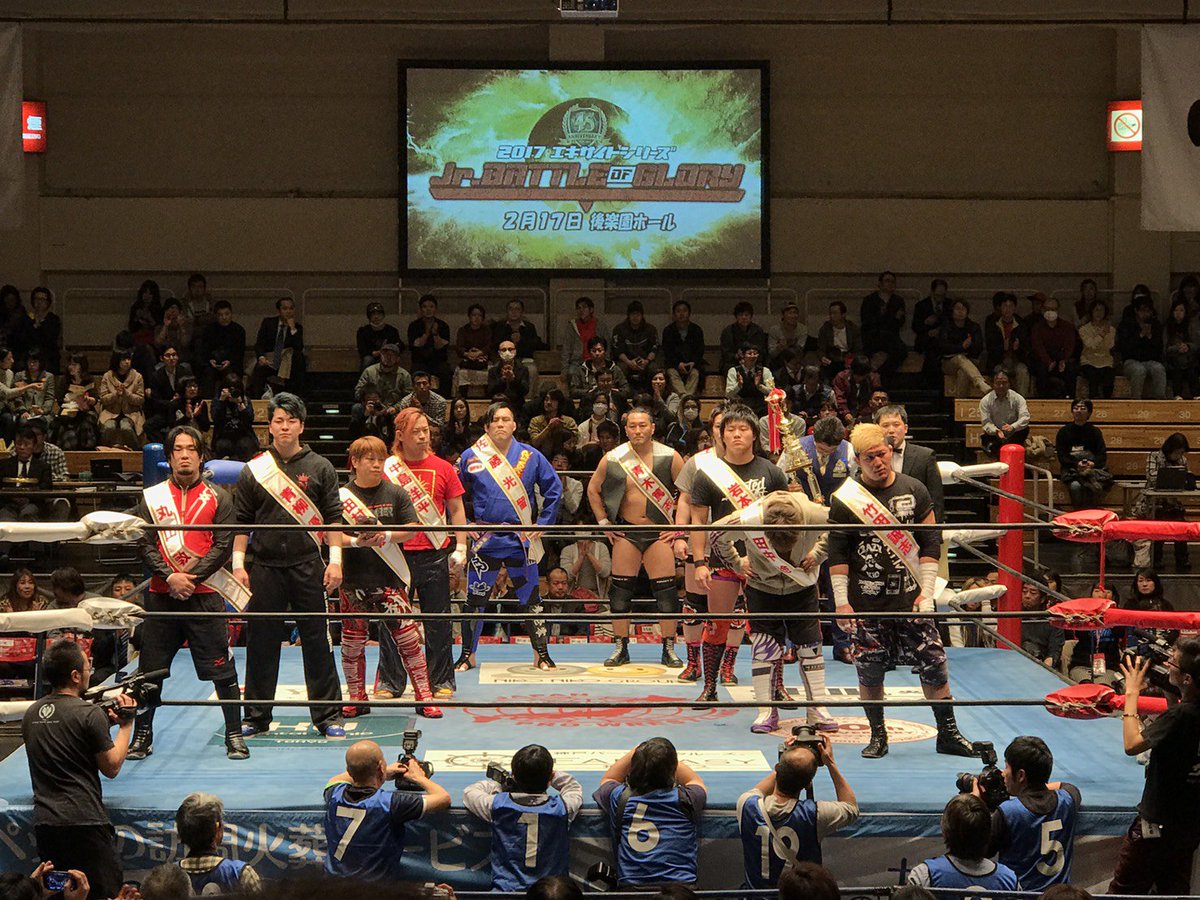 (1) Atsushi Aoki & Hikaru Sato vs. Naoya Nomura & Yusuke Okada
◆Winner: Aoki (5:47) with a Diving Body Press on Yusuke.
(2) Jr. League ~ B BLOCK : Kazuhiro Tamura (HEAT-UP) vs. Atsushi Maruyama (FREE)
◆Winner: Tamura (4:50) with a Minoru Special.
~ Tamura declared that he will make it to the final.
(3) Jr. League ~ B BLOCK : Yohei Nakajima vs. Yuma Aoyagi
◆Winner: Aoyagi (8:09) following the Rockstar Buster.
~ Aoyagi stated that he aims to break the mold of being a young boy in a promotion. That he shall prove himself against the more established.
(4) Jun Akiyama, Masao Inoue (FREE) & Ultimo Dragon (Toryumon MEXICO) vs. Takao Omori, Masanobu Fuchi & Osamu Nishimura (FREE)
◆Winner: Masao (9:25) with a Small Package on Fuchi.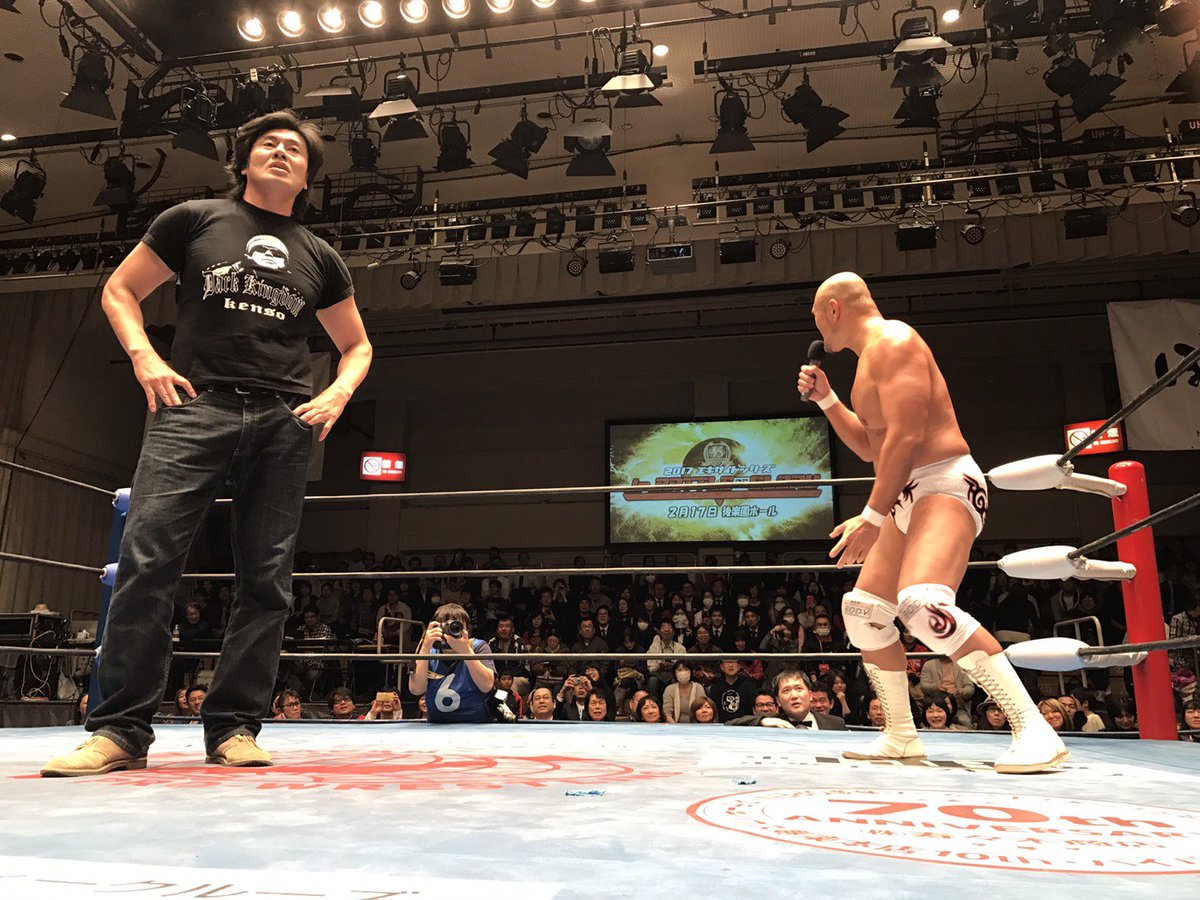 ~ KENSO appeared as he made it known that he was the one who sent the letter demanding that the vacant GAORA TV belt be presented to him. It was then decided that Jun Akiyama himself and KENSO will battle over control of the vacant belt on March 12.
(5) Jr. League ~ A BLOCK :  Koji Iwamoto vs. Masashi Takeda (FREE)
◆Winner: Iwamoto (7:34) following the Koko no Geijutsu.
~ Iwamoto celebrates his first singles win since joining All Japan with the start of the year. He aims to carry this victory to even more in the future.
~ After a physical deathmatch just yesterday in BJW, Takeda admitted that he slipped today, but he does not plan to let it happen again.
(6) Jr. League ~ A BLOCK : Keisuke Ishii (DDT) vs. Minoru Tanaka (FREE)
◆Winner: Keisuke (12:27) via pin-fall.
~ As the reigning World Junior Champion Keisuke kicked off the league with a strong win over a former champion. Keisuke's confidence now appears at high as aims to win the league as well.
(7) Suwama & Joe Doering vs. Ryoji Sai (LAND'S END) & KAI (FREE)
◆Winner: Sai (12:10) with a Small Package on Doering.
~ Doering was furious after the loss and protest the loss against the referee.
~ Atsushi Onita appeared as he invited Suwama to take part in his style of deathmatches, but Suwama refused the request.
(8) World Tag Championship Match: [73rd Champions] Zeus & The Bodyguard (FREE) vs. [Challengers] Kento Miyahara & Jake Lee
◆Winner: Bodyguard (16:14) following the Bounce on Jake.
~ 2nd successful title defense.
~ Bodyguard declared that he will carry this win into the Triple Crown challenge on February 26 and that hs shall become a five crown champion.
~ Miyahara declared that his goal remains to capture the five crown one day, but he must keep focus on achieving the next defense with the Triple Crown. That he still looks to become the defense record holder this year.
~ Jake stated that he will not give up in his pursuit to be champion that he knows he must become stronger.