Hello again everyone, and thank you to all who participated in the voting for our 2016 Joshi Year End Awards! This is a first for us, but I was pleasantly surprised by the turnout. 2016 brought a lot of terrific matches and shows across several promotions, and we're happy to be highlighting some of those which stood out the most over the year. So without further ado, here are the winners!
Wrestler of the Year: Io Shirai
This will likely come as little surprise to most Joshi fans, and for good reason. Io Shirai defeated Meiko Satomura for the World of Stardom Championship in December of 2015, and held the title all through 2016. For a while she held the World of Stardom, Goddess of Stardom, Artist of Stardom, and SWA Championships simultaneously. She consistently put on fantastic matches and seemingly effortlessly maintained her status as the ace of Stardom, even after turning heel and forming the Queens Quest faction. Shirai also won the Tokyo Sports Joshi Wrestler of the Year award for a second year in a row. A year as good as the one she had would be difficult for just about anyone to even hold a candle to, much less surpass.
2nd place: Meiko Satomura
3rd place: Tsukasa Fujimoto
Match of the Year: Io Shirai vs Mayu Iwatani (Stardom Yearend Climax, December 22)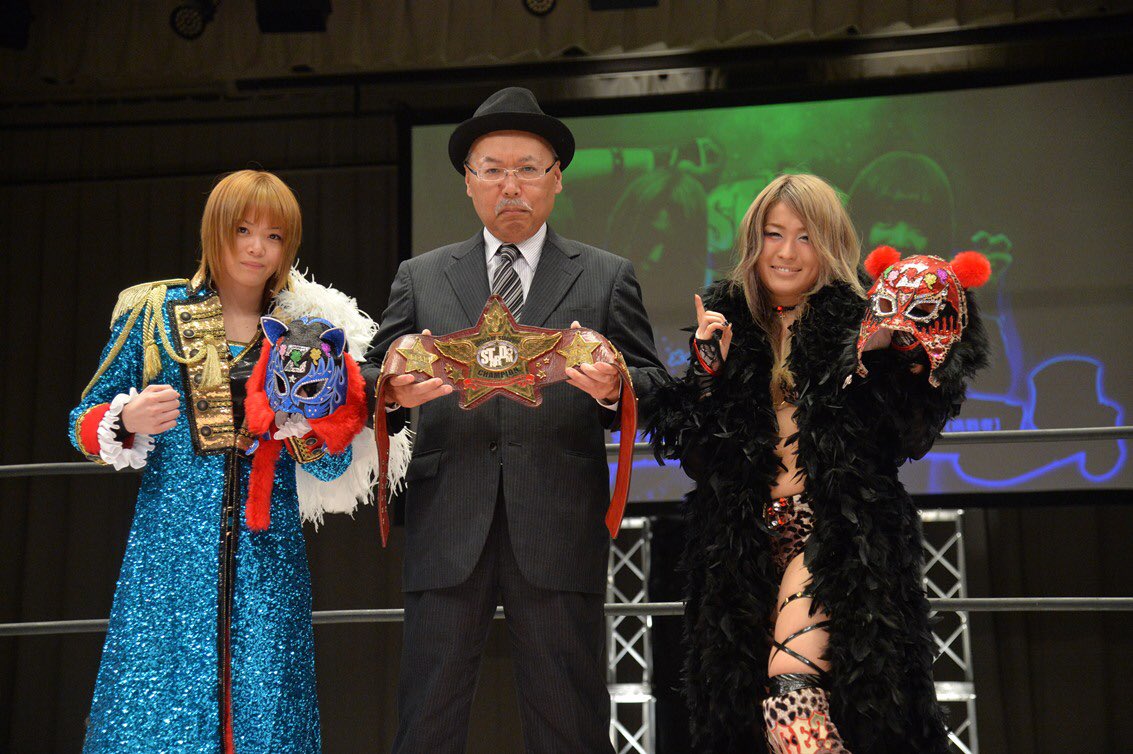 Io Shirai and Mayu Iwatani have been the best of friends, and bitter enemies. Mayu fell short in a World of Stardom title match earlier in the year in what was also a fantastic match. But when Io turned her back on her Thunder Rock teammate at the end of the Goddesses of Stardom Tag League, their rivalry escalated to a whole new level, and it showed when the two clashed in the main event of Stardom's Yearend Climax show at Korakuen Hall. The result was an amazing display of athletics, intensity and relentless perseverance.
2nd place: Meiko Satomura vs Aja Kong (Sendai Girls, April 8)
3rd place: Tsukasa Fujimoto vs Tsukushi (Ice Ribbon, November 3)
Rookie of the Year: Chihiro Hashimoto
How often is it that someone defeats an ace to win a promotion's top title within their rookie year? It may not be unprecedented, but it's certainly quite rare. And that's exactly what Chihiro Hashimoto did when she defeated Meiko Satomura on October 23. But it's more than her early championship reign that make her such a standout. Hashimoto's style is unique among her peers, and her proficiency with it has made her match quality consistently good. Her world title reign may have since come to an abrupt end, but it seems highly unlikely that we have seen the end of Hashimoto's rise in Joshi. She has many years ahead of her, and if they're anywhere near as good as 2016 was for her, there will be plenty of great things to look forward to.
2nd place: Hana Kimura
3rd place: Jungle Kyona
Tag Team of the Year: "Best Friends" Tsukasa Fujimoto & Arisa Nakajima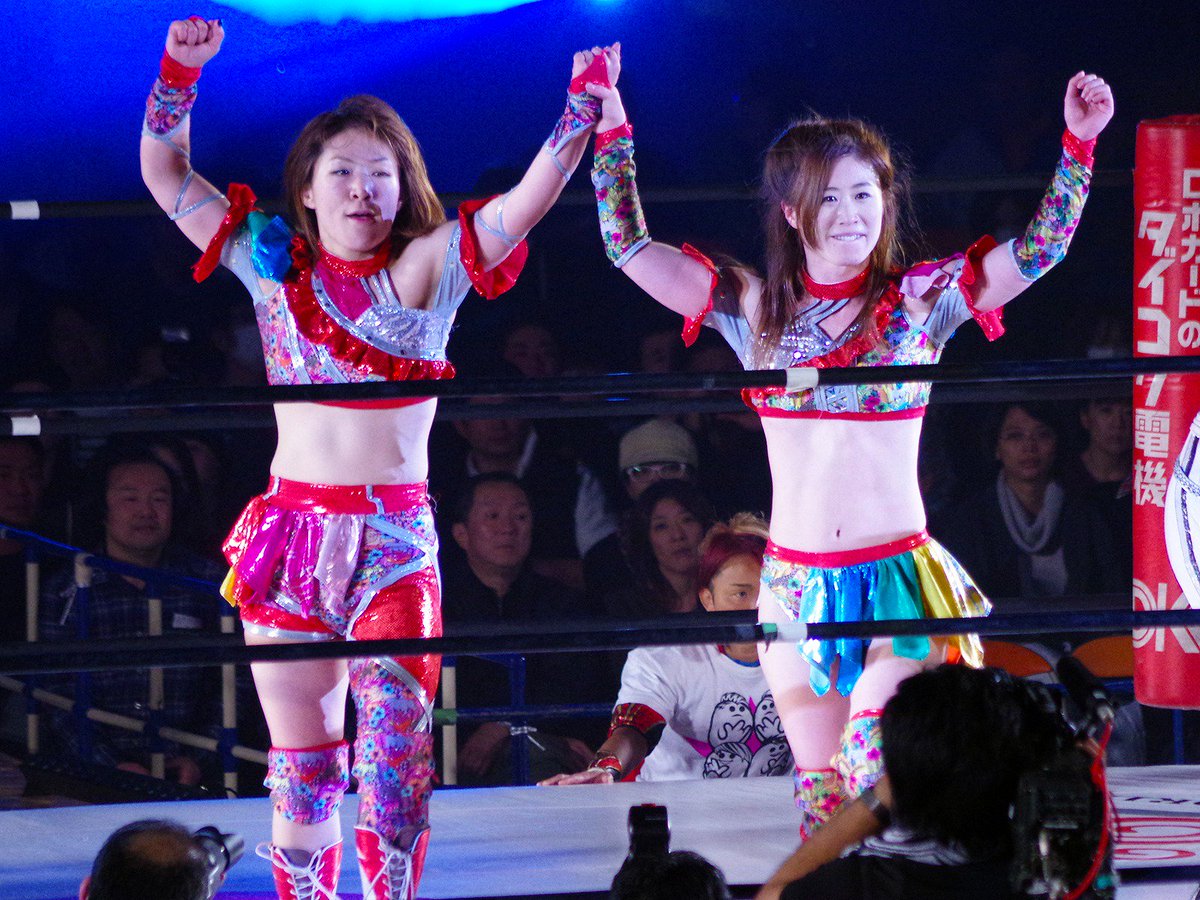 "Best Friends" are more than just the pairing of the aces of Ice Ribbon and JWP. They're a team that has consistently produced strong results in several promotions. The two spent most of the first half of 2016 as the tag team champions in both Ice Ribbon and JWP, and had several matches together in OZ Academy, along with a few scattered matches elsewhere. And now that Nakajima has left JWP, it will be interesting to see what effect that will have on this team moving forward.
2nd place: Hikaru Shida & Syuri
3rd place: "Thunder Rock" Io Shirai & Mayu Iwatani
Show of the Year: Stardom "Yearend Climax 2016" (December 22)
It probably shouldn't be very surprising that the Match of the Year took place on the Show of the Year. In addition to the stellar main event the show featured an emotional victory by Kairi Hojo and Yoko Bito in the Goddess of Stardom Championship match. And the enjoyable undercard featured a strong first showing in the promotion from Konami, a fun triple threat tag match, and a NWA Western States Tag Team Championship bout between Twisted Sisterz and Queen's Quest.
2nd place: Sendai Girls 10th Anniversary Show (October 10)
3rd place: Tie between Ice Ribbon 10th Anniversary Show (May 4) & OZ Academy 20th Anniversary "Yokohama Dreams Park DK" (November 13)
Most Improved: Momo Watanabe
While she may not have won any titles in 2016, Momo Watanabe showed steady and constant improvement throughout the year. Initially she was teaming with fellow rookies in undercard matches that rarely had much substance to them. But she quickly grew and matured as time went on. Her moveset gradually became more clean and refined until she was regularly one of the standouts in Stardom's shows. Her High Speed Championship match against Mayu Iwatani and her matches in the 5 Star GP in particular gave her a great spotlight and showcased her talent. And her recent transition into Io Shirai's heel faction, Queen's Quest, has smoothly presented a whole new side of her. We've already seen a glimpse of her continued growth in 2017 with her singles match against Kagetsu, and it seems likely Momo will be one to keep an eye out for in the future.
2nd place: Maya Yukihi
3rd place: Tie between Mika Iida & Yako Fujigasaki
Fighting Spirit: Risa Sera
She may not be as widely considered the "ace" of Ice Ribbon as Tsukasa Fujimoto, but Risa Sera had a terrific 2016. She won the ICE×∞ Championship twice, competed in numerous title matches and consistently produced high quality matches throughout the year. And she celebrated her birthday by holding a 60 minute Iron Woman gauntlet that featured deathmatches against BJW stars including Isami Kodaka, Yuko Miyamoto, Kankuro Hoshino and Abdullah Kobayashi. That alone should dispel any doubts that she deserves this award.
2nd place: Tsukushi
3rd place: Ray
Promotion of the Year: Stardom
This was an extremely close race, but in the end Stardom emerged as the victor. And while strong arguments can be made in favor of others, it's simply hard to trump the year Stardom had. Their strong roster ground out several great shows in 2016, including the winner of the Show of the Year category. From Io Shirai's dominance as the ace of Stardom, to Kairi Hojo capturing the Wonder of Stardom title, to the return of Yoko Bito, to the 5 Star GP, time after time the promotion continued to produce excellent content. They were the first Joshi promotion to start a streaming service, and the first Japanese wrestling streaming service to incorporate English subtitles for their promos. That alone is a huge factor that, on top of all the great matches and shows, made Stardom the Joshi Promotion of 2016.
2nd place: Sendai Girls
3rd place: Ice Ribbon
Special Honor: Dynamite Kansai
Dynamite Kansai retired on December 11 after a match against her long time friend, partner and rival, Mayumi Ozaki. A veteran of 30 years, saying Kansai is a legend would be an understatement. She has competed in some of the best matches in Joshi history, and was a big part of what made the 90s such a great decade for women's wrestling in Japan. We wish her all the best in her retirement.