K-DOJO "K-UP IMPACT in Blue Field ~ 2017 New Year Special", 1/9/2017 [Mon] 12:00 @ Blue Field in Chiba
(1) Kaji Tomato vs. Hitoshi Kumano (NOAH)
◆Winner: Kaji (9:54) with the Red Eye.
(2) Hardcore Match: Kotaro Yoshino & Yoshihiro Horaguchi vs. Ricky Fuji & Ichiro Yaguchi
◆Winner: Yaguchi (14:38) following the Thunder Struck on Horaguchi.
(3) GO Asakawa vs. Kotaro Suzuki (FREE)
◆Winner: Kotaro (13:17) with a Tiger Driver.
(4) Kengo Mashimo & Tank Nagai vs. Daisuke Sekimoto & Takuya Nomura (both BJW)
◆Winner: Mashimo (14:44) witht he Mudo on Takuya.
(5) Saburo Inematsu Retirement Road ~ Electric Current Blast Deathmatch: Saburo Inematsu & TAKA Michinoku vs. Atsushi Onita & Katsunari Toi
◆Winner: Inematsu (12:41) following a Blast Bat Strike on Toi.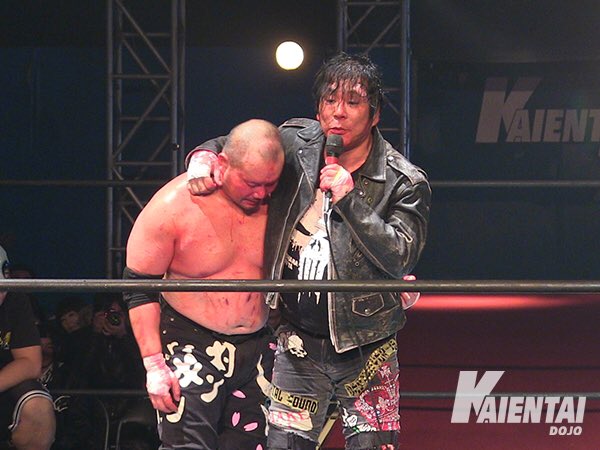 http://puroresuspirit.net/tag/k-dojo/
Upcoming…
KAIENTAI DOJO "CLUB-K 3000", 1/14/2016 [Sat] @ Blue Field in Chiba
() Saburo Inematsu Retirement Road: Saburo Inematsu vs. Kunio Toshima
() TAKA Michinoku, Ricky Fuji & ERINA vs. Bambi, Yoshihiro Horaguchi & Taylor Adams
() BO-SO Tag League BLOCK-A Match: Shiori Asahi & Shinichiro Tominaga vs. Kengo Mashimo vs. Ayumu Honda
() BO-SO Tag League BLOCK-A Match: Taishi Takizawa & Kotaro Yoshino vs. GO Asakawa & Dinosaur Takuma
() BO-SO Tag League BLOCK-B Match: Ayato Yoshida & Kyu Mogami vs. Tank Nagai & Yuki Sato
() BO-SO Tag League BLOCK-B Match: Kaji Tomato & Yuma vs. Daigoro Kashiwa & Marines Mask
KAIENTAI DOJO "CLUB-K 3000", 1/15/2016 [Sun] @ Nagara-cho Longwood Station in Chiba
() BO-SO Tag League BLOCK-A Match: : Shiori Asahi & Shinichiro Tominaga vs. GO Asakawa & Dinosaur Takuma
() BO-SO Tag League BLOCK-B Match: Kaji Tomato & Yuma vs. Tank Nagai & Yuki Sato
KAIENTAI DOJO "CLUB-K 3000", 1/22/2016 [Sun] @Blue Field in Chiba
() BO-SO Tag League BLOCK-A Match: Taishi Takizawa & Kotaro Yoshino vs. Shiori Asahi & Shinichiro Tominaga
() BO-SO Tag League BLOCK-A Match: GO Asakawa & Dinosaur Takuma vs. Kengo Mashimo vs. Ayumu Honda
() BO-SO Tag League BLOCK-B Match: Daigoro Kashiwa & Marines Mask vs. Tank Nagai & Yuki Sato
() BO-SO Tag League BLOCK-B Match: Ayato Yoshida & Kyu Mogami vs. Kaji Tomato & Yuma
"Saburo Inematsu Retirement Show – The First and Last Saburo Festival", 2/5/2017 [Sun] 14:00 @ Blue Field in Chiba
() Kengo Mashimo vs. DJ Nira (FREE)
() Ricky Fuji, Kaji Tomato & Ryuichi Sekine (BASARA) vs. Tank Nagai, Yuki Sato & Ayumu Honda
() Makoto Oishi (DDT) & Shiori Asahi vs. Kunio Toshima & PSYCHO (FREE)
() Daigoro Kashiwa, Hi69 (FREE) & Yasu Urano (DDT) vs. Ayato Yoshida, Kyu Mogami & GO Asakawa
() Saburo Inematsu Retirement Single Match: Saburo Inematsu vs. Yuji Hino (FREE)
KAIENTAI DOJO "CLUB-K in TKP Garden City Chiba", 2/26/2016 [Sun] 13:00 @ TKP Garden City Chiba
() CHAMPION OF STRONGEST-K Match: [Champion] Kengo Mashimo vs. [Challenger] Taishi Takizawa