DDT "Road to SUPER ARENA in OYODO ~ Dramatic Dream Tenroku", 1/9/2017 [Mon] 12:30 @ Osaka City Oyodo Community Center
322 Spectators (crowded)
(1) Sanshiro Takagi, Toru Owashi & Kazuki Hirata vs. Kazusada Higuchi, Kouki Iwasaki & Candace LeRae
◆Winner: LeRae (9:12) following the Ballsplex on Hirata.
(2) Antonio Honda & Yuni vs. Masahiro Takanashi & Guanchulo
◆Winner: Honda (9:18) following a Diving Fist Drop on Guanchulo.
(3) Keisuke Ishii & Rekka vs. Yasu Urano & Soma Takao
◆Winner: Urano (9:47) with a Figure Four Jacknife Hold on Rekka.
(4) KUDO vs. Tetsuya Endo vs. Shunma Katsumata
◆Winner: KUDO (8:46) following a Diving Double Knee Dro pon Katsumata.
(5) 26cm Height Difference! New Year Special Single Match: Yoshihiro Takayama (FREE) vs. Makoto Oishi
◆Winner: Takayama (9:26) following a Knee Lift.
~ Dino vs. Takayama will take place on 2/4 in Osaka.
(6) HARASHIMA & Akito vs. Daisuke Sasaki & Mad Pauley
◆Winner: HARASHIMA (16:25) via TKO on Daisuke, with a Modified Sleeper Hold.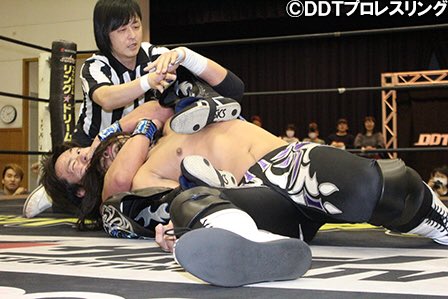 (7) KO-D Tag Championship Match: [58th Champions] Konosuke Takeshita & Mike Bailey vs. [Challengers] Masakatsu Funaki & Yukio Sakaguchi
◆Winner: Funaki (14:43) following the Hybrid Blaster on Bailey.
~ Champions fall on their 2nd defense. Funaki and Yukio become the 59th generation champions.
~ HARASHIMA and Akito came out to make the first challenge.
http://puroresuspirit.net/tag/ddt/
Upcoming…
DDT "Sweet Dreams! 2017", 1/29/2017 [Sun] @ Korakuen Hall in Tokyo
() AJPW Sanctioned World Junior Heavyweight Championship Match: [Champion] Keisuke Ishii vs. [Challenger] Yasu Urano
() KO-D Next Challenger Tournament Final: Konosuke Takeshita vs. KUDO
(-) KO-D Openweight Championship Match: [60th Champion] HARASHIMA vs. [Challenger] Daisuke Sasaki
~ 3rd title defense.
DDT, 2/4/2017 [Sat] 17:30 @ EDION Arena Osaka, 2nd Stadium
() Danshoku Dino vs. Yoshihiro Takayama
(-) DDT EXTREME Championship Match: [Champion] Jun Kasai vs. [Challenger] Mad Pauley