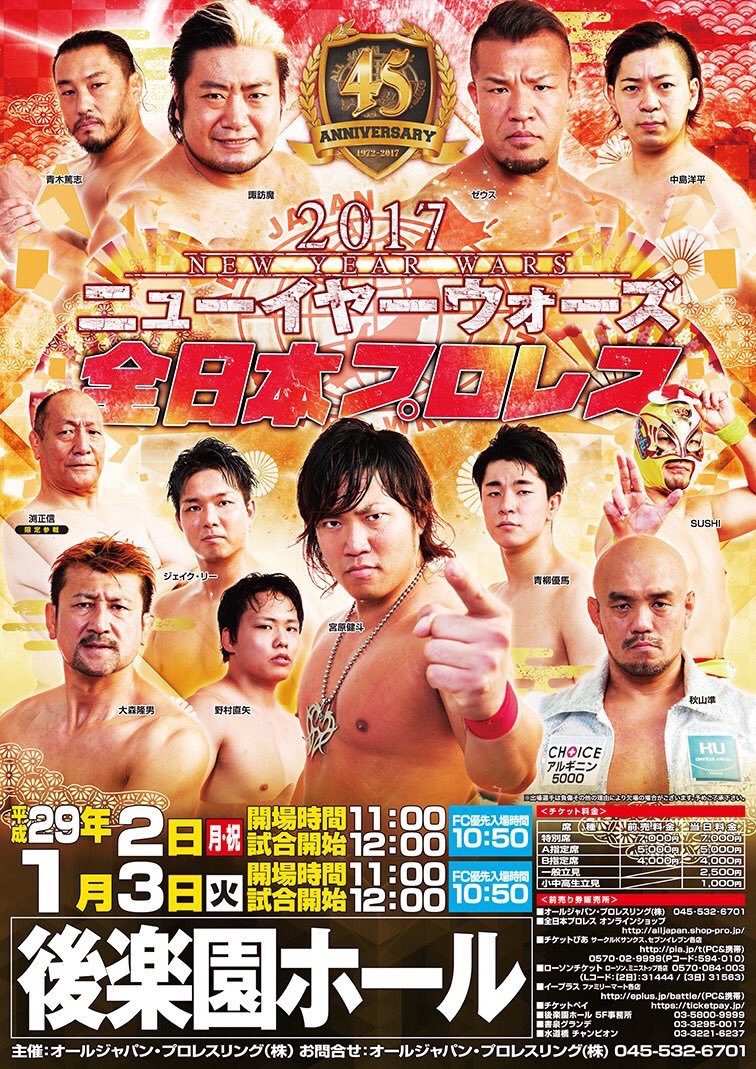 All Japan Pro-Wrestling "2017 New Year Wars", 1/3/2017 [Tue] 12:00 @ Korakuen Hall in Tokyo
1,061 Spectators
~ It was announced that referee Kyohei Wada has suffered an injury following his participation in yesterday's battle royal. He took part in a special top rope spot with Fuminori Abe, but he ended up taking a full drop to the outside of the ring without anyone to break his fall. All Japan announced that he will be taking a break from the rest of this month's tour.
(1) Naoya Nomura vs. Takuya Nomura (BJW)
◆Winner: Naoya (8:15) following a Spear Tackle Pin.
~ Naoya claims a revenge win following the losses last year.
(2) Masanobu Fuchi, Yohei Nakajima & SUSHI vs. Osamu Nishimura (FREE), Ultimo Dragon (Toryumon MEXICO) & Koji Iwamoto
◆Winner: Yohei (11:36) following the Tobiushiro-Mawashigeri on Iwamoto.
(3) Jun Akiyama & Kendo Kashin (FREE) vs. Isami Kodaka (BASARA) & Kazuhiro Tamura (HEAT-UP)
◆Winner: Kashin (6:24) via pin-fall on Tamura, following a Running Knee from Akiyama.
~ Ultimo Dragon came out and offered Akiyama to join him in Mexico for his 30th anniversary as a pro-wrestler in May.
(4) Atsushi Aoki, Super Tiger (RJPW) & Hikaru Sato (Pancrase MISSION) vs. Shuji Ishikawa (FREE), Ryoji Sai (LAND'S END) & Minoru Tanaka (FREE)
◆Winner: Ishikawa (9:57) with the Splash Mountain on Hikaru.
~ Aoki and Minoru had a stare-down following the match, though that was then lead by the announcement of this years junior singles league.
---
The participants for this years "Jr. BATTLE OF GLORY" were announced.
A BLOCK
Atsushi Aoki
Koji Iwamoto
Keisuke Ishii (DDT)
Masashi Takeda (U-FILE)
Minoru Tanaka (FREE)
B BLOCK
Hikaru Sato
Yohei Nakajima
Yuma Aoyagi
Atsushi Maruyama (FREE)
Kazuhiro Tamura (HEAT-UP)
~ This year league is set to begin on February 17 at Korakuen and will run, a total of 6 events from start to finish, until February 26 in Osaka. The announced matches have been added to the monthly event cards.
---
(5) World Junior Heavyweight Championship Match: [42nd Champion] Keisuke Ishii (DDT) vs. [Challenger] Yuma Aoyagi
◆Winner: Keisuke (16:22) following the High Angle Double Arm DDT.
~ 1st successful title defense.
(6) Kento Miyahara & Jake Lee vs. Suwama & Joe Doering
◆Winner: Miyahara (14:58) following the Blackout on Doering.
~ Miyahara with a strong win over the returning Joe. Though Joe did not take the loss withstanding as he rushed after the newest debuting rookie Yusuke Okada with a heavy lariat after the match.
(7) World Tag Championship Match: [73rd Champions] "Big Guns" Zeus & The Bodyguard vs. [Challengers] "GET WILD" Takao Omori & Manabu Soya
◆Winner: Bodyguard (19:46) with the Bounce (Lifting Avalanche Hold Slam) on Omori.
~ Big Guns with the successful defense.
~ Zeus and Omori ended the show in celebration with the fans in attendance. In the process ending the challengers recent dominate win streak stemming from last months tag league.
~ Bodyguard hinted that he wants to challenge for the Triple Crown this year.