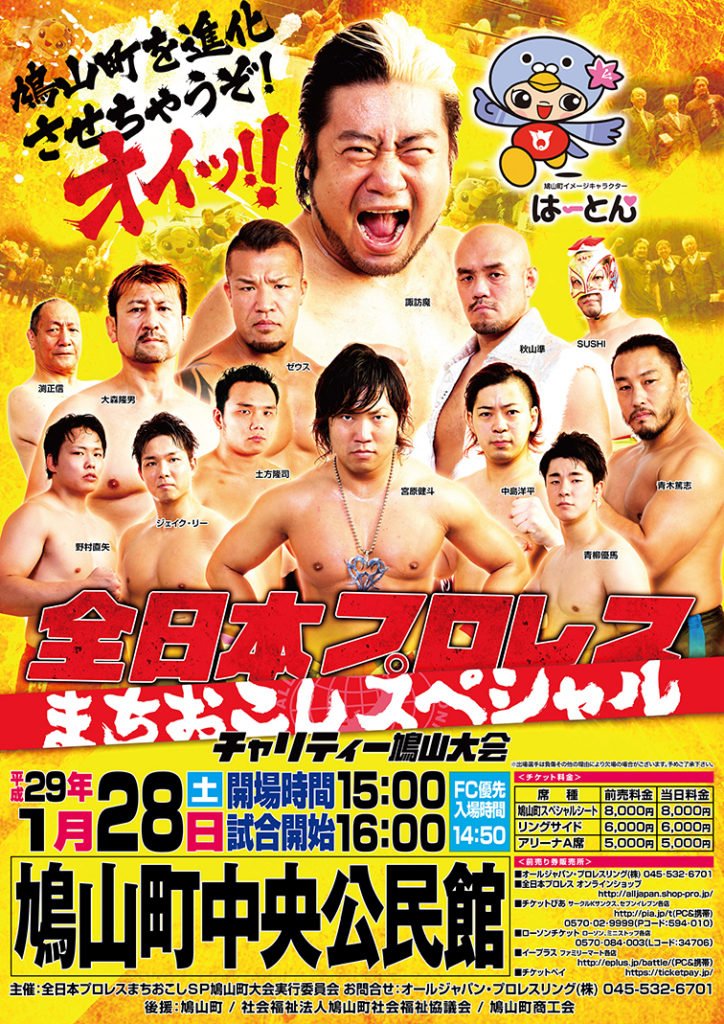 All Japan Pro-Wrestling "Machi-Okoshi Special Charity Hatoyama-cho Event", 1/28/2017 [Sat] 18:00 @ Hatoyama-cho Central Community Center in Saitama
455 Spectators (crowded)
(1) Yuma Aoyagi vs. Yusuke Okada
◆Winner: Aoyagi (9:48) with a Boston Crab.
(2) Masao Inoue (FREE) vs. Rikiya Fudo (LAND'S END)
◆Winner: Masao (7:55) with a School Boy.
(3) Takao Omori, Kazuhiro Tamura (HEAT-UP) & Daichi Kazato (BASARA) vs. Yohei Nakajima, Koji Iwamoto & Ryuji Hijikata (FREE)
◆Winner: Tamura (10:50) following a Ganmengeri (face kick) on Yohei.
(4) SUSHI Send-Off Match: Jun Akiyama vs. SUSHI
◆Winner: Akiyama (11:46) following a Wrist Clutch style Exploder.
~ SUSHI bowed with the utmost respect to Akiyama as he now plans to move forward with a path in his career.
~ SUSHI will be freelance from All Japan beginning next month. Though he announced that he would continue competing for the promotion in March, though freelance.
(5) Zeus & Ryoji Sai (LAND'S END) vs. Jake Lee & Naoya Nomura
◆Winner: Zeus (17:08) with a Jackhammer on Naoya.
(6) Kento Miyahara vs. Yutaka Yoshie (FREE)
◆Winner: Miyahara (14:19) following the Blackout.
(7) Suwama, Super Tiger (RJPW), Atsushi Aoki & Hikaru Sato vs. Mitsuya Nagai (DRADITION), Black Tiger VII (FREE), Tatsuhito Takaiwa (FREE) & Takeshi Minamino (Toneri Family)
◆Winner: Suwama (17:21) following a Last Ride on Minamino.
~ Suwama with the win over Dark Nightmare as he asserts Evolution as the true dominant team. Suwama continues to stated that he will protect All Japan from any and all invaders.
During the backstage interview, Black Tiger VII brought up Shuji Kondo's name as someone he will try and bring back to All Japan.
AJPW Event Cards for January & February 2017
http://puroresuspirit.net/2016/12/ajpw-event-cards-for-january-february-2017/