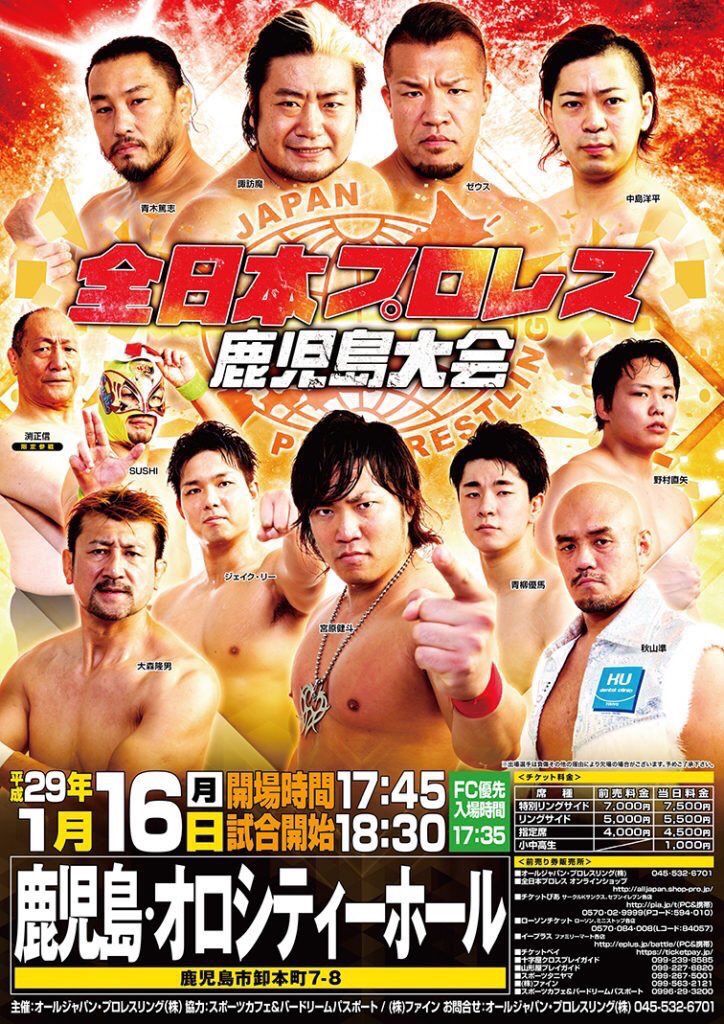 All Japan Pro-Wrestling "2017 New Year Wars", 1/16/2017 [Mon] 18:30 @ Kagoshima Oro City Hall
308 Spectators (packed)
(1) Atsushi Aoki vs. Yusuke Okada
◆Winner: Aoki (5:50) following a Brainbuster.
(2) Yohei Nakajima & Atsushi Maruyama (FREE) vs. SUSHI & Ultimo Dragon (Toryumon MEXICO)
◆Winner: Maruyama (12:50) via pin-fall on SUSHI.
(3) Takao Omori vs. Rikiya Fudo (LAND'S END)
◆Winner: Omori (11:01) following an Axe Bomber.
(4) Jun Akiyama & Koji Iwamoto vs. Yutaka Yoshie & Minoru Tanaka (both FREE)
◆Winner: Yoshie (14:41) with a Diving Body Press on Iwamoto.
(5) Suwama & Hikaru Sato (Pancrase MISSION) vs. Mitsuya Nagai (DRADITION) & Takeshi Minamino (Toneri Family)
◆Winner: Suwama (14:45) with the Manriki Sleeper on Minamino.
~ The EVOLUTION vs DARK NIGHTMARE was is in full swing as Suwama aims to rid the group all together from All Japan.
~ Hikaru made a vow of revenge against Black Tiger VII as they took a piece of his hair last week.
(6) Naoya Nomura vs. Ryoji Sai (LAND'S END)
◆Winner: Sai (12:18) following the Sidmouth.
(7) Kento Miyahara, Jake Lee & Yuma Aoyagi vs. Zeus, The Bodyguard (FREE) & Keisuke Ishii (DDT)
◆Winner: Bodyguard (19:59) with the Bounce on Aoyagi.
~ Bodyguard declared that he shall become the Triple Crown champion and in the process be a 5-Crown champion with the Tag belts also in his possession.
~ The 1/28 event was updated as SUSHI's last match under All Japan was made official to be against Akiyama.