"WRESTLE-1 TOUR SHINING WINTER", 12/9/2016 [Fri] 19:00 @ Korakuen Hall in Tokyo
(1) Kohei Fujimura vs. Takanori Ito (A.C.E.)
◆Winner: Ito (5:09) with a German Suplex Hold.
(2) Shotaro Ashino & "brother" YASSHI (FREE) vs. Hiroki Murase & Masayuki Mitomi (Ehime Pro)
◆Winner: Ashino (2:53) with an Ankle Hold on Mitomi.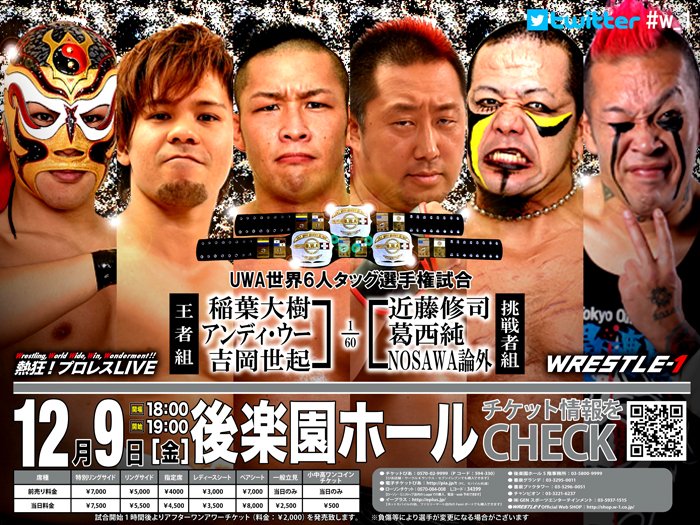 (3) UWA World 6 Man Tag Championship Match: [51st Champion] Daiki Inaba, Andy Wu & Seiki Yoshioka vs. [Challengers] Shuji Kondo, Jun Kasai (FREEDOMS) & NOSAWA Rongai (Tokyo Gurentai)
◆Winner: Kondo (8:41) following a King Kong Lariat on Inaba.
~ Champions fall on their 4th title defense. Kondo, Kasai, and NOSAWA becomes the 52nd champions.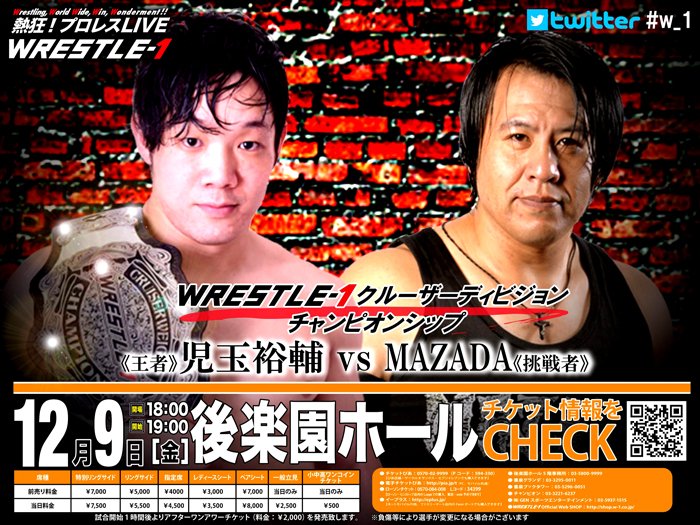 (4) WRESTLE-1 Cruiserweight Championship Match: [5th Champion] Yusuke Kodama vs. [Challenger] MAZADA (Tokyo Gurentai)
◆Winner: MAZADA (16:18) with a Modified Masada Driver.
~ Champion falls on his 4th title defense. MAZADA becomes the 6th generation champion.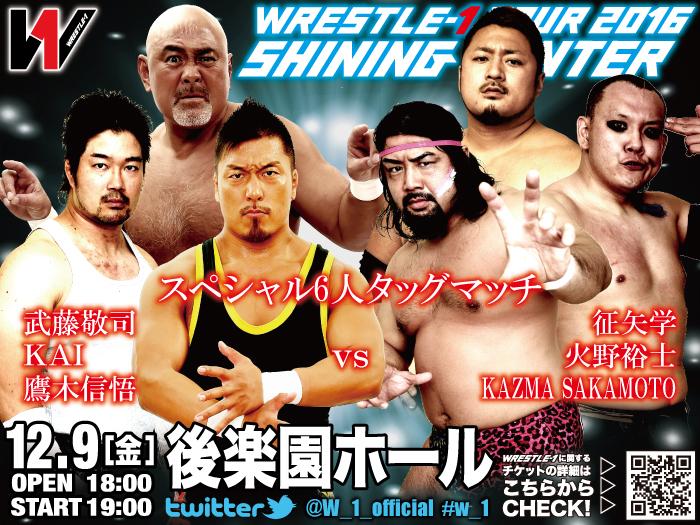 (5) Special 6 Man Tag Match: Keiji Mutoh, KAI & Shingo Takagi (DG) vs. Manabu Soya, Yuji Hino & KAZMA SAKAMOTO (both FREE)
◆Winner: Mutoh (15:01) following a Shining Wizard on KAZMA.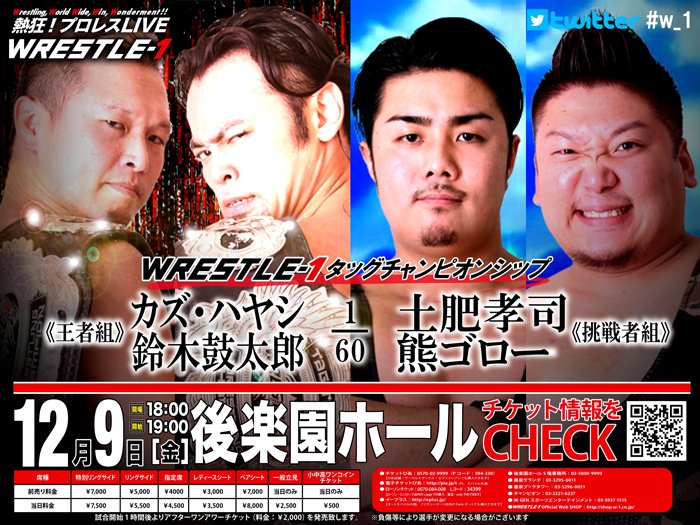 (6) WRESTLE-1 Tag Championship Match: [7th Champions] Kaz Hayashi & Kotaro Suzuki (FREE) vs. [Challengers] Koji Doi & Kumagoro
◆Winner: Hayashi (15:01) with a Power Plant on Kumagoro.
~ 2nd successful title defense.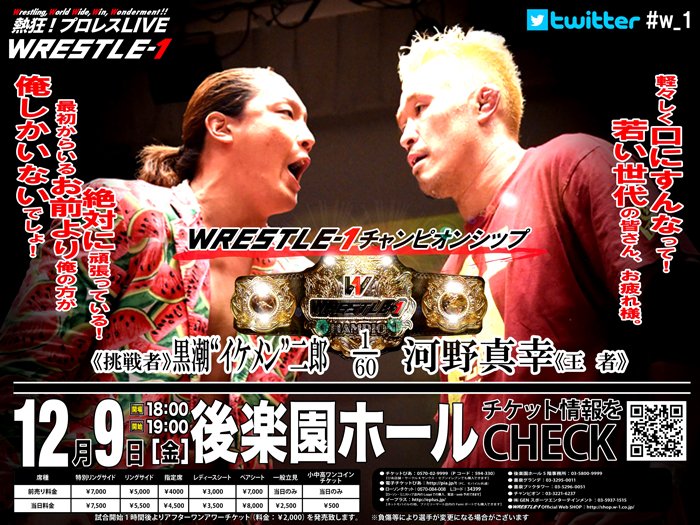 (7) WRESTLE-1 Championship Match: [10th Champion] Masayuki Kono vs. [Challenger] Jiro "Ikemen" Kuroshio
◆Winner: Kono (18:26) following the Giant Knee Drop.
~ 1st successful title defense.
~ Manabu Soya came forward to challenge the champion.
~ The formation of "NEW ERA" appears to be all for nothing as the veterans emerged the victors of the night. Capturing all the belts and halting the recent push from the new generation of wrestlers in W-1.
~ Takao Omori, Naoya Nomura, and Yuma Aoyagi were announced to be competing on the 1/8 show at Korakuen.
http://puroresuspirit.net/tag/w-1/
Upcoming…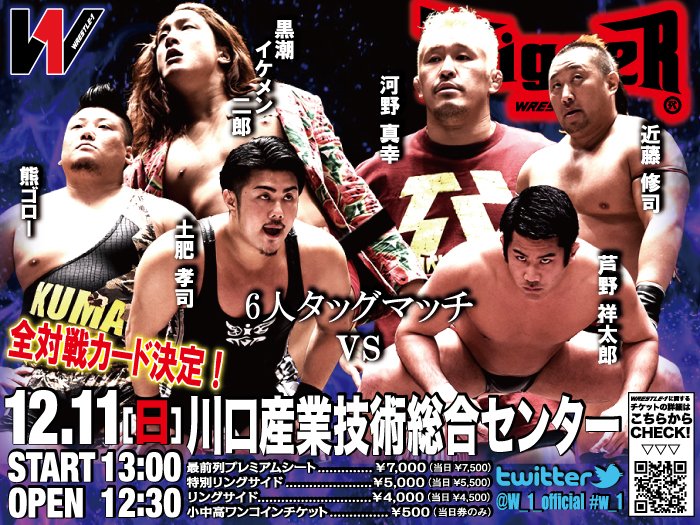 WRESTLE-1 TOUR 2016 SHINING WINTER, 12/11/2016 [Sun] 13:00 @ Kawaguchi Industrial Technology Center in Saitama
(1) WRESTLE-1 vs Pro-Wrestling ACE 6 Man Tag Match: Kaz Hayashi, Kotaro Suzuki (FREE) & Yuji Hino vs. Seigo Tachibana, Jun Tonsho & Takanori Ito
(2) Andy Wu & Seiki Yoshioka vs. NOSAWA Rongai & MAZADA
(3) Manabu Soya vs. Kohei Fujimura
(4) Daiki Inaba vs. Hiroki Murase
(5) KAI vs. Yusuke Kodama
(6) Jiro "Ikemen" Kuroshio, Koji Doi & Kumagoro vs. Masayuki Kono, Shuji Kondo & Shotaro Ashino
"WRESTLE-1 TOUR 2016 SHINING WINTER", 12/18/2016 [Sun] 15:00 @ Yamatake City Namikawa-so Gymnasium in Chiba
() Takanori Ito vs. Ganseki Tanaka
() Joshi Match: Nao Kakuta vs. Rika Miyama
() Andy Wu & Kohei Fujimura vs. Kotaro Suzuki & NOSAWA Rongai
() Jiro "Ikemen" Kuroshio & Seiki Yoshioka vs. Shuji Kondo & Shotaro Ashino
() Daiki Inaba vs. Kaz Hayashi
() Masayuki Kondo vs. Hiroki Murase
() Yusuke Kodama, Koji Doi & Kumagoro vs. Manabu Soya, KAI & Yuji Hino
"WRESTLE-1 TOUR 2016 SHINING WINTER", 12/25/2016 [Sun] 16:00 @ Yodogawa Citizen Center in Osaka
() Seigo Tachibana vs. Sho Shindo
() Kumagoro vs. Ganseki Tanaka
() Seiki Yoshioka, Daisuke Masaoka (FREEDOMS) & Jun Tonsho vs. KAI, Hiroki Murase & Kohei Fujimura
() Jiro "Ikemen" Kuroshio & Koji Doi vs. Shuji Kondo & 'brother' YASSHI
() Masayuki Kono & Shotaro Ashino vs. Manabu Soya & Yuji Hino
() Daiki Inaba, Andy Wu & Yusuke Kodama vs. Kaz Hayashi, Kotaro Suzuki & NOSAWA Rongai