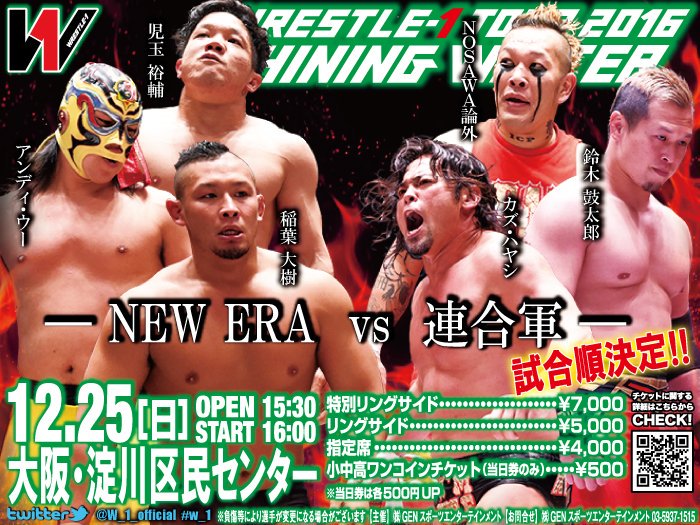 "WRESTLE-1 TOUR 2016 SHINING WINTER", 12/25/2016 [Sun] 16:00 @ Yodogawa Citizen Center in Osaka
(1) Pro-Wrestling A.C.E. Offer Match: Seigo Tachibana vs. Sho Shindo
◆Winner: Tachibana (5:29) following a Running Elbow.
(2) Kumagoro vs. Kohei Fujimura
◆Winner: Kumagoro (7:55) with an Argentine Backbreaker.
(3) Seiki Yoshioka, Daisuke Masaoka (FREEDOMS) & Jun Tonsho vs. KAI, Hiroki Murase & Masayuki Mitomi (Ehime)
◆Winner: Tonsho (16:21) with a Leg Roll Clutch on Murase.
(4) Masayuki Kono & Shotaro Ashino vs. Manabu Soya & Yuji Hino
◆Winner: Soya (16:06) following the Wild Bomber on Kono.
~ Soya with the win over Kono before the title challenge on 1/8.
(5) Jiro "Ikemen" Kuroshio & Koji Doi vs. Shuji Kondo & 'brother' YASSHI (FREE)
◆Winner: YASSHI (13:26) with a La Magistral on Doi.
(6) Daiki Inaba, Andy Wu & Yusuke Kodama vs. Kaz Hayashi, Kotaro Suzuki (FREE) & NOSAWA Rongai (Gurentai)
◆Winner: Wu (16:03) with a Dragon Suplex Hold on NOSAWA.
~ Wu with the win as he builds momentum heading into the Cruiser title challenge on 1/8.
http://puroresuspirit.net/tag/w-1/
Upcoming…
WRESTLE-1 TOUR 2017 SUNRISE, 1/8/2017 [Sun] 12:00 @ Korakuen Hall in Tokyo
(-) Seiki Yoshioka & Kohei Fujimura vs. KAI (FREE) & Hiroki Murase
(-) WRESTLE-1 vs All Japan Pro-Wrestling 6 Man Tag Match: Keiji Mutoh, Koji Doi & Kumagoro vs. Takao Omor, Naoya Nomura & Yuma Aoyagi
() WRESTLE-1 Cruiserweight Championship Match: [6th Champion] MAZADA vs. [Challenger] Andy Wu
~ 1st title defense.
() WRESTLE-1 Tag Championship Match: [7th Champions] Kaz Hayashi & Kotaro Suzuki vs. [Challengers] Daiki Inaba & Yusuke Kodama
~ 3rd title defense.
() WRESTLE-1 Championship Match: [10th Champion] Masayuki Kono vs. [Challenger] Manabu Soya
~ 2nd title defense.
WRESTLE-1 TOUR 2017 SUNRISE, 1/10/2017 [Tue] 19:00 @ Nagoya City Nakamura Sports Center, Daiichi Stadium in Aichi
() Sendai Girls Offer Match: Meiko Satomura vs. Mika Shirahime
() W-1 vs A.C.E.: Shotaro Ashino vs. Seigo Tachibana
() KAI & Hiroki Murase vs. Rocky Kawamura (Pancrase-ism) & Jun Tonsho
() Yusuke Kodama & Koji Doi vs. Masayuki Kono & NOSAWA Rongai
() Kaz Hayashi, Manabu Soya & Yuji Hino vs. Daiki Inaba, Andy Wu & Kumagoro
() Jiro "Ikemen" Kuroshio, Seiki Yoshioka & Carry H vs. Shuji Kondo, Kotaro Suzuki & MAZADA
Pro-Wrestling A.C.E. – Vol. 2, 1/14/2017 [Sat] 17:30 @ GEN Sports Palace ~ WRESTLE-1 Dojo
() Hana Kimura vs. Natsumi Manki
() Ganseki Tanaka vs. Takuya Nomura (BJW)
() Seigo Tachibana vs. Kenichiro Arai (DG)
Koji Doi & Kumagoro Self-Produce "New Year Fighting Festival", 1/25/2017 [Wed] 19:00 @ Shinjuku FACE in Tokyo
() Yusuke Kodama & Hiroki Murase vs Masaya Tkaahashi & Shota Nakagawa (both ASUKA)
() Kohei Fujimura vs. Yohei Nakajima (AJPW)
() Andy Wu & Seiki Yoshioka vs. Yuko Miyamoto (666) & Isami Kodaka (BASARA)
() Koji Doi & Kumagoro vs. Daisuke Sekimoto and Yuji Okabayashi