NJPW NEWS
~ The full card was announced for the finals of the "World Tag League" on December 10.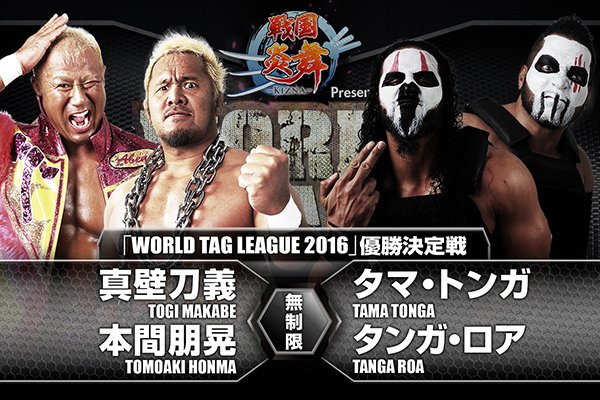 New Japan Pro Wrestling "WORLD TAG LEAGUE 2016", 12/10/2016 [Sat] 17:00 @ Sekisui Haim Super Arena in Miyagi
(1) Jushin Thunder Liger & Tiger Mask IV vs. Ryusuke Taguchi & David Finlay
(2) WORLD TAG LEAGUE Special: Manabu Nakanishi & Henare vs. Bad Luck Fale & Yujiro Takahashi
(3) WORLD TAG LEAGUE Special: Yoshitatsu & Billy Gunn vs. Chase Owens & BONE SOLDIER
(4) WORLD TAG LEAGUE Special: Raymond Rowe & Hanson vs. Brian Breaker & Leland Race
(5) WORLD TAG LEAGUE Special: Hiroyoshi Tenzan, Satoshi Kojima & Yuji Nagata vs. SANADA, EVIL & BUSHI
(6) WORLD TAG LEAGUE Special: Katsuyori Shibata & Juice Robinson vs. Hirooki Goto & YOSHI-HASHI
(7) WORLD TAG LEAGUE Special: Hiroshi Tanahashi & KUSHIDA vs. Tetsuya Naito & Rush
(8) WORLD TAG LEAGUE Special: Kazuchika Okada & Tomohiro Ishii vs. Kenny Omega & Hangman Page
(9) WORLD TAG LEAGUE FINAL Match: (A BLOCK #1) Tama Tonga & Tanga Loa vs. (B BLOCK #1) Togi Makabe & Tomoaki Honma
---
~ The full event card was announced for the January 10 show.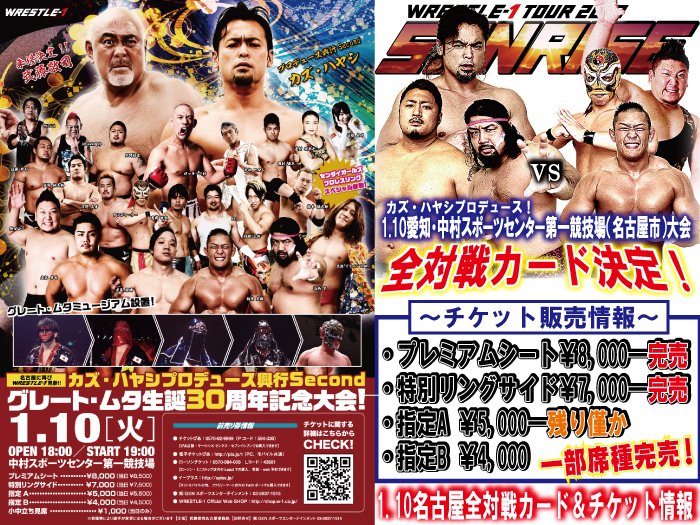 WRESTLE-1 TOUR 2017 SUNRISE, 1/10/2017 [Tue] 19:00 @ Nagoya City Nakamura Sports Center, Daiichi Stadium in Aichi
() Sendai Girls Offer Match: Meiko Satomura vs. Mika Shirahime
() W-1 vs A.C.E.: Shotaro Ashino vs. Seigo Tachibana
() KAI & Hiroki Murase vs. Rocky Kawamura (Pancrase-ism) & Jun Tonsho
() Yusuke Kodama & Koji Doi vs. Masayuki Kono & NOSAWA Rongai
() Kaz Hayashi, Manabu Soya & Yuji Hino vs. Daiki Inaba, Andy Wu & Kumagoro
() Jiro "Ikemen" Kuroshio, Seiki Yoshioka & Carry H vs. Shuji Kondo, Kotaro Suzuki & MAZADA
http://puroresuspirit.net/tag/w-1/
---
ZERO1 NEWS
~ Kohei's partner for the upcoming Furinkazan Tag League was announced to be KAMIKAZE. With the final full team announced the event cards were announced as well.
Announced Teams
◎ Kohei Sato & KAMIKAZE
◎ Masato Tanaka & James Raideen
◎ Akebono & Shogun Okamoto
◎ Yusaku Obata & KAI
◎ Takuya Sugawara & Kotaro Suzuki
◎ TARU & Hartley Jackson
◎ Koji Kanemoto & Minoru Tanaka
◎ Ikuto Hidaka & Sean Guinness
◎ Shinjiro Otani & Kazuki Hashimoto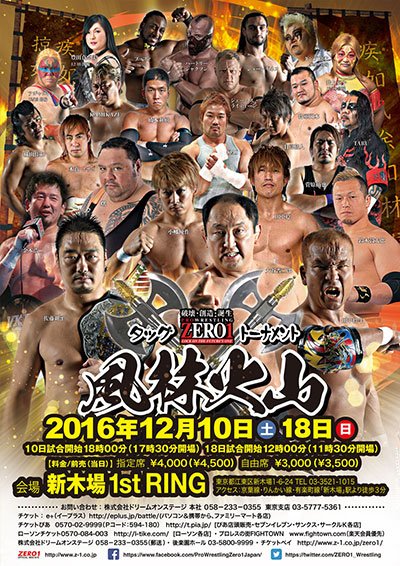 ZERO1 "Furinkazan Tag Tournament 2016", 12/10/2016 [Sat] 18:00 @ Shinkiba 1stRING in Tokyo
() Yoshikazu Yokoyama & Kyoko Kimura vs. Buffa & Dump Matsumoto
() Masato Tanaka & James Raideen vs. TARU & Hartley Jackson
() Koji Kanemoto & Minoru Tanaka vs. Shinjiro Otani & Chris Orndorff
() Furinkazan Tag Tournament 1st Round: Yusaku Obata & KAI vs. Kohei Sato & KAMIKAZE
() Furinkazan Tag Tournament 1st Round: Takuya Sugawara & Kotaro Suzuki vs. Ikuto Hidaka & Sean Guinness
ZERO1 "Furinkazan Tag Tournament 2016", 12/12/2016 [Mon] 18:00 @ Nagoya City Kita Sports Center in Aichi
() Marvelous Offer Match:
() Buffa vs. Chris Orndorff
() Yoshikazu Yokoyama vs. Minoru Tanaka
() Kohei Sato, Yusaku Obata & Sean Guinness vs. TARU, KAMIKAZE & Hartley Jackson
() Shinjro Otani, Koji Kanemoto & Tatsuhito Takaiwa vs. Takuya Sugawara, Kotaro Suzuki & Ikuto Hidaka
() Furinkazan Tag Tournament 1st Round: Makoto Tanaka & James Raideen vs. Akebono & Shogun Okamoto
() Electric Current Blast Bat Deathmatch: Atsushi Onita & Chigusa Nagayo vs. KAI & Crusher Maedomari
ZERO1 "Furinkazan Tag Tournament 2016", 12/13/2016 [Tue] 18:30 @ Mito Shimin Taiikukan in Ibaraki
() KAMIKAZE vs. Yoshikazu Yokohama
() Kohei Sato vs. Buffa
() Koji Kanemoto & Minoru Tanaka vs. (Losers of 12/10, Team Sugawara or Hidaka)
() Tatsuhito Takaiwa vs. Chris Orndorff
() Akebono, Shogun Okamoto & Masato Tanaka vs. Yusaku Obata, KAI & James Raideen
() Furinkazan Tag Tournament 1st Round: Shinjiro Otani & Kazuki Hashimoto vs. TARU & Hartley Jackson
() Furinkazan Tag Tournament 2nd Round: Isami Kodaka & Takumi Tsukamoto vs. (Winners of 12/10, Team Sugawara or Hidaka)
ZERO1 "Furinkazan Tag Tournament 2016", 12/14/2016 [Wed] 18:30 @ Sayama Citizen Exchange Center
() Furinkazan Tag Tournament 2nd Round: Koji Kanemoto & Minoru Tanaka vs. (Winner of 12/13, Team Otani or TARU)
() Furinkazan Tag Tournament Semi-final Round: (Winners of 12/12, Team Akebono or Tanaka) vs. (Winners of 12/13, 2nd round)
ZERO1 "Furinkazan Tag Tournament 2016", 12/16/2016 [Fri] 18:30 @ Sendai City Yume Messe Miyagi
() Yoshikazu Yokohama vs. Buffa
() Takuya Sugawara & Kotaro Suzuki vs. Ikuto Hidaka & Chris Orndorff
() Furinkazan Tag Tournament Semi-final Round: (Winners of 12/10, Team Obata or Kohei) vs. (Winners of 12/14, 2nd Round)
ZERO1 "Furinkazan Tag Tournament 2016", 12/18/2016 [Sun] 12:00 @ Shinkiba 1stRING in Tokyo
() Yoshikazu Yokoyama & Manami Toyota vs. Buffa & Aja Kong
() Furinkazan Tag Tournament Final Match: