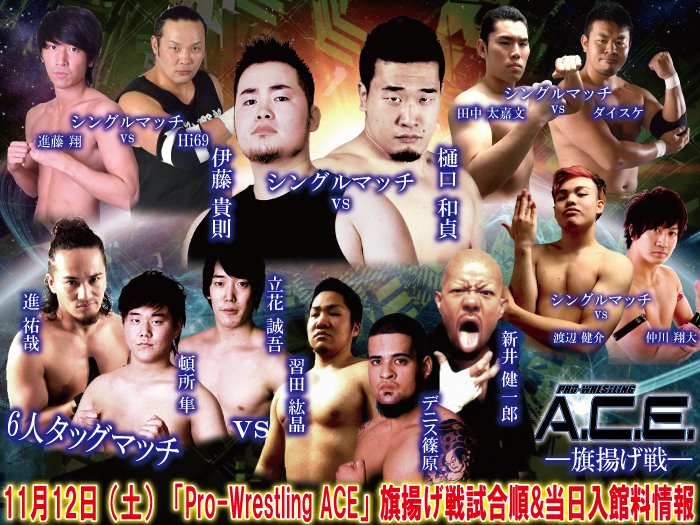 Pro-Wrestling A.C.E. "Hataage-sen ~ Debut Show", 11/12/2016 [Sat] 17:30 @ Shinjuku GEN Sports Palace (W-1 Dojo), 4F in Tokyo
121 Spectators
(1) Takafumi Tanaka vs. Daisuke (GUTS World)
♦Winner: Daisuke (7:42) with an Umanori style Headlock.
(2) Kensuke Watanabe vs. Shota Nakagawa (ASUKA Project)
♦Winner: Nakagawa (7:38) following a Swanton Bomb.
(3) Sho Shindo vs. Hi69 (FREE)
♦Winner: Hi69 (13:09) following the Trance Rave (Running Knee).
(4) Seiji Tachibana, Jun Tonsho & Yuya Susumu (FREEDOMS) vs. Dennis Shinohara, Hiroaki Shuta & Kenichiro Arai (DG)
♦Winner: Tonsho (19:53) with a Dragon Suplex Hold on Shuta.
(5) Takanori Ito vs. Kazusada Higuchi (DNA/DDT)
♦Winner: Higuchi (12:07) with a Doctor Bomb.
~ It was announced that Hana Kimura will join A.C.E., as she originally started under the W-1 based Dojo Academy, and her first match under them will be on January 14.