AJPW NEWS
All the teams and matches are now officially set for the "World's Strongest Tag League" that will be taking place throughout the month of December.
Kendo Kashin was announced to be Akiyama partner for the league which has then lead to the card being publicly released. Among the extra additions to the tour will be the PWF President Dory Funk Jr. will be present and competing on the early December shows.
You can check out the cards through the link below…
---
BJW NEWS
~ A special deathmatch between Isami Kodaka vs. Takayuki Ueki was announced for the 1/4 show at the Shinkiba 1stRING.
http://puroresuspirit.net/tag/bjw/
---
FREEDOMS NEWS
~ The upcoming show on the 17th had some updates in regards to the format for the deathmatches for the show. The main event of course will feature the next challenger determined for the KFC singles belt which is held by Violento Jack.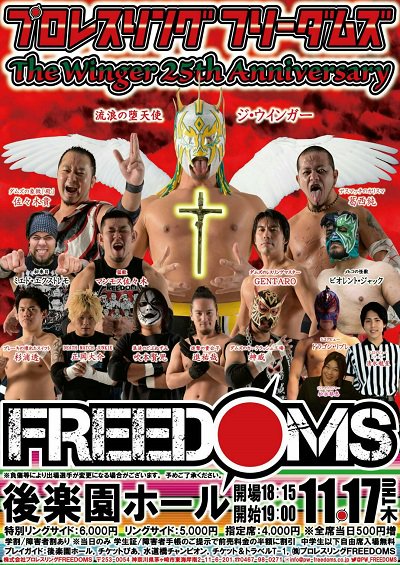 FREEDOMS "The Winger 25th Anniversary Show", 11/17/2016 [Thu] 19:00 @ Korakuen Hall in Tokyo
(-)  Rikidozan 3rd Generation 7 Match Series ~ 6th Match: Isami Kodaka vs. Chikara (RikiEnterprise)
(-) The Winger 25th Anniversary Match: The Winger vs. TAJIRI
(-) TLC Deathmatch: Violento Jack, Takashi Sasaki & Shuji Ishikawa vs. Jun Kasai, Masashi Takeda & Kenji Fukimoto
(-) UWA World Junior Heavyweight Championship Match: [Champion] GENTARO vs. [Challenger] Meido Xtremo
~ 2nd title defense.
(-) KING of FREEDOM WORLD TAG CHAMPIONSHIP Match: [11th Champions] Yuya Susumu & HAYATA (DOVE) vs. [Challengers] Mammoth Sasaki & Toru Sugiura
~ 3rd title defense.
(-) KFC Contendership Decision ~ Fluorescent Lighttube & Ladder + Alpha Deathmatch: Daisuke Masaoka vs. Yuko Miyamoto
http://puroresuspirit.net/tag/freedoms/
---
KAIENTAI DOJO
~ It was announced that Yuma will be taking a break for a month as he looks to take a break from the ring and rethink his path as a wrestler. [Of course this all being announced in a comedic manner, which is a staple of his. Though maybe changing? We will see I guess.]
【動画メッセージ】
KAIENTAI DOJO事務局にこのような動画が届けられました。差出人は「雄馬」とありますが、これが一体何を意味するメッセージなのか…。#kdojo pic.twitter.com/MOXLZTRm3e

— KAIENTAI DOJO (@kdojooffice) November 9, 2016
---
VKF NEWS
~ The full event card was announced for the next VKF show on November 23 in Osaka. The show will feature a potentially solid main event of Koji Kanemoto and Shuichiro Katsumura taking on the Osaka Maskman combination of Masamune & Tsubasa.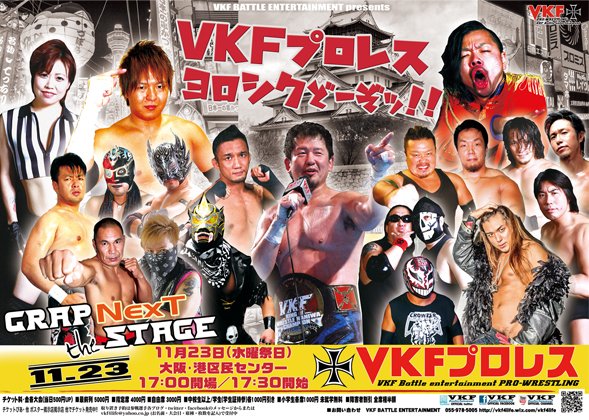 VKF Pro-Wrestling "GRAP the Next STAGE ~ Emiri Retirement Show", 11/23/2016 [Wed] 17:30 @ Minatoku-min Center in Osaka
() Kyu Mogami [K-DOJO] & Joji Otani [GUTS] vs. Yuto Kikuchi [Doutonbori] & VKF Machine
() Chinsuke Nakamura vs. Suganuma Hengen X
() Drake Morimatsu vs. Tomoko Watanabe
() MIYAWAKI [FREE] vs. Mineo Fujita [FREE]
() Yasu & Hide Kubota [both FREE] vs. Katsumi Oribe & TORU [both Doutonbori]
() Yuya Susumu [FREEDOMS] vs. Takaku Fuke [Pancrase MISSION]
() Shigehiro Irie [DDT] vs. Kazuaki Mihara [Doutonbori]
() Gao [FREE] & Naoki Tanizaki [DG] vs. Scorpio Sky & GENTARO [FREEDOMS]
() Koji Kanemoto [FREE] & Shuichiro Katsumura [Kachofugetsu] vs. Masamune & Tsubasa [both FREE]
http://puroresuspirit.net/tag/vkf/
---
WRESTLE-1 NEWS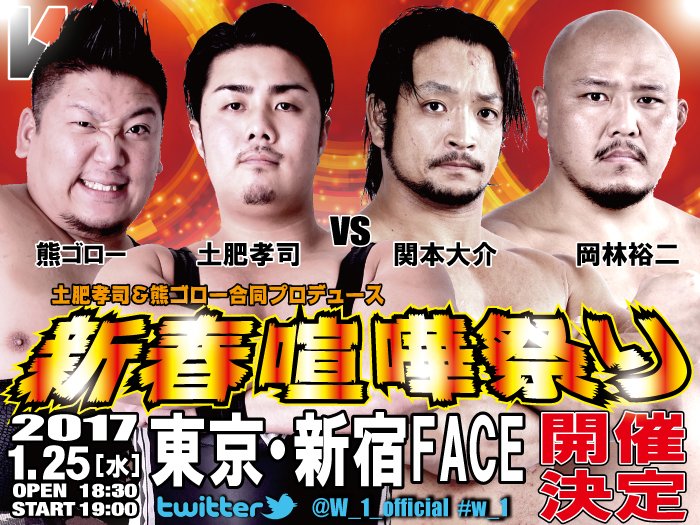 ~ Koji Doi and Kumagoro announced that they will be hosting their own self-produce show on January 25. The up-and-comers from W-1 announced that they will be taking on "Strong BJ" Daisuke Sekimoto and Yuji Okabayashi in the main event of the show.
Koji Doi & Kumagoro Self-Produce "New Year Fighting Festival", 1/25/2016 [Wed] 19:00 @ Shinjuku FACE in Tokyo
(-) Koji Doi & Kumagoro vs. Daisuke Sekimoto and Yuji Okabayashi
http://puroresuspirit.net/tag/w-1/
---
~ See something that I may have overlooked? Feel free to send me a message on the facebook page.
~ I am currently looking for someone to cover DRAGON GATE and any joshi-related promotions respectively. Also if you have a blog dedicated to one of these promotions, feel free to let me know as well and we could work something out. If you believe this something that you could handle on a daily or even a weekly basis, or even if you wish for me to promote your own blog, feel free to send me a message.
—————————————————————————————————————————————————————-
If you enjoy these posts feel free to check out the Patreon to help support the further growth of the website. At least $1 a month will help cover the server costs and future plans to build a better site. This in term is aimed to help you all in return to keep up with numerous promotions throughout Japan. Thank you for helping keep the spirit alive.