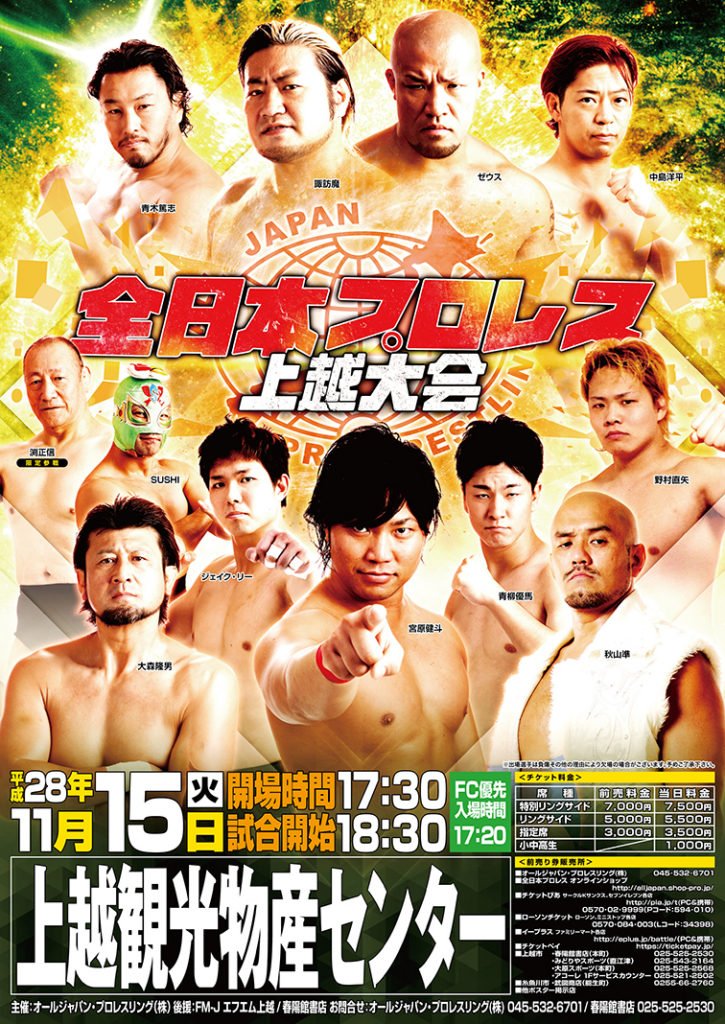 All Japan Pro-Wrestling, 11/15/2016 [Tue] 18:30 @ Joetsu Kanko Bussan Center in Niigata
263 Spectators
(1) Jr. TAG BATTLE OF GLORY Match: Soma Takao (DDT) & Yuma Aoyagi vs. Koji Iwamoto & Fuminori Abe (both Sportiva)
◆Winner: Takao (8:19) with a Gin and Tonic on Abe.
~ Takao/Aoyagi [1 win, 1 loss = 2 points]
~ Iwamoto/Abe [3 losses = 0 points]
(2) 3WAY: Takao Omori vs. SUSHI vs. Big THE Ryokan (Niigata)
◆Winner: Omori (8:55) following an Axe Bomber on SUSHI.
(3) Jr. TAG BATTLE OF GLORY Match: Kazuhiro Tamura (HEAT-UP) & Daichi Kazato (BASARA) vs. 5th Gen. Black Tiger (FREE) & Takeshi Minamino (Toneri Family)
◆Winner: Tamura (7:14)  via pin-fall on Black Tiger.
~ Tamura/Kazato [2 wins = 4 points]
~ B. Tiger/Minamino [2 wins, 1 loss = 4 points]
~ Team Axe Bombers with the win as they halt Dark Nightmares complete run through of the league.
(4) Ryoji Sai (LAND'S END) vs. Hikaru Sato (Pancrase MISSION)
◆Winner: Sai (9:45) with a Double Leg Lock.
(5) Jun Akiyama & Yohei Nakajima vs. Mitsuya Nagai (DRADITION) & Tatsuhito Takaiwa (FREE)
◆Winner: Nagai (9:58) following the Russian Octopus Driver on Yohei.
(6) Zeus & The Bodyguard (FREE) vs. Masashi Takeda (U-FILE) & Atsushi Maruyama (FREE)
◆Winner: Zeus (13:22) following the Eagle Nelson on Maruyama.
(7) Kento Miyahara, Jake Lee & Naoya Nomura vs. Suwama, Atsushi Aoki & Super Tiger (RJPW)
◆Winner: Suwama (18:31) following the Last Ride on Nomura.