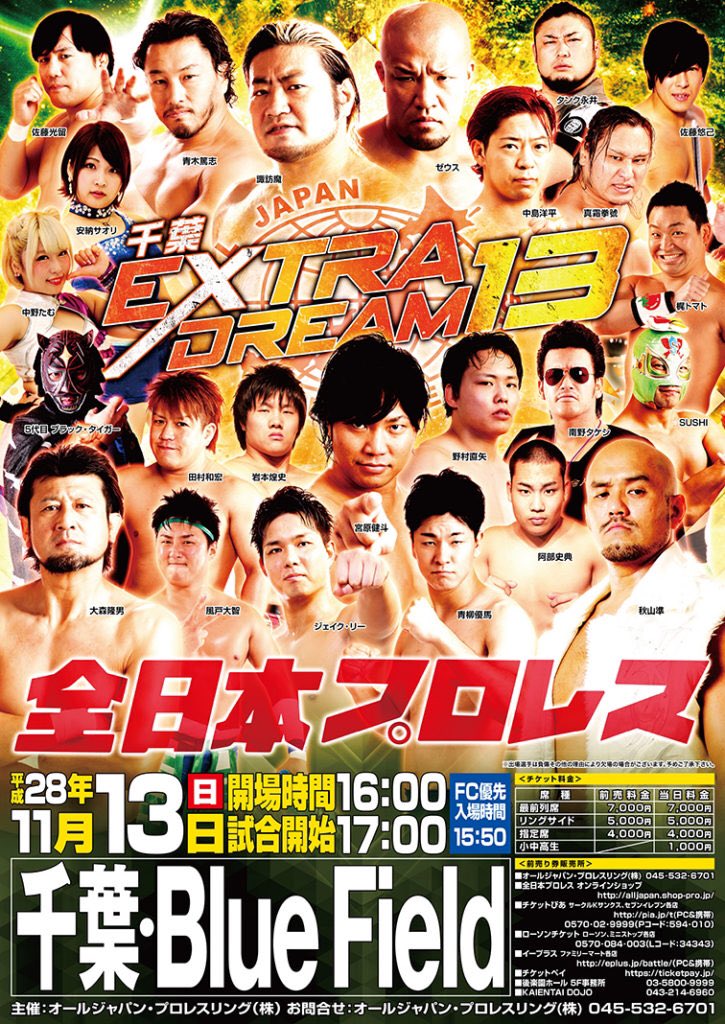 All Japan Pro-Wrestling "Chiba EXTRA DREAM 13", 11/13/2016 [Sun] 17:00 @ Blue Field in Chiba
(1) Takao Omori & SUSHI vs. Yohei Nakajima & Kaji Tomato (K-DOJO)
◆Winner: Yohei (14:06) following the Tobiushiro-Mawashigiri on SUSHI.
(2) Beginning Offer Match: Saori Anno vs. Tamu Nakano
◆Winner: Anno (6:48) with a Fisherman Suplex Hold.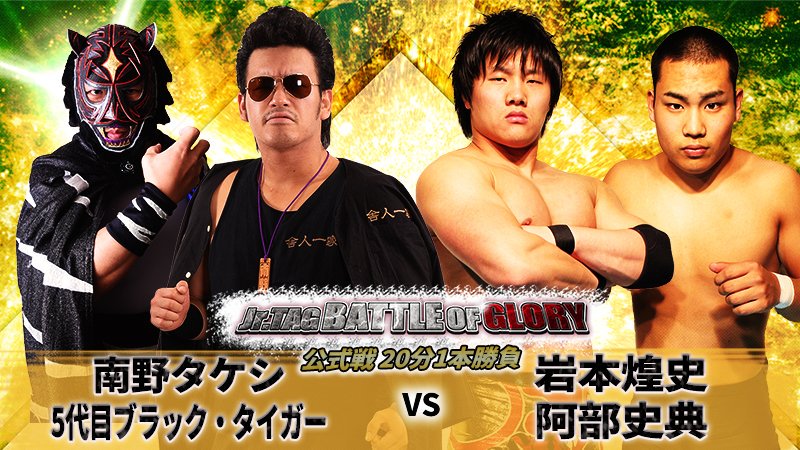 (3) Jr. TAG BATTLE OF GLORY Match: 5th Gen. Black Tiger & Takeshi Minamino (both FREE) vs. Koji Iwamoto & Fuminori Abe (both Sportiva)
◆Winner: Black Tiger (11:17) following a Diving Elbow Drop on Abe.
~ Black Tiger/Minamino [2 wins = 4 points]
~ Iwamoto/Abe [2 losses = 0 points]
~ Dark Nightmare with another win as their claim to win it all still stands.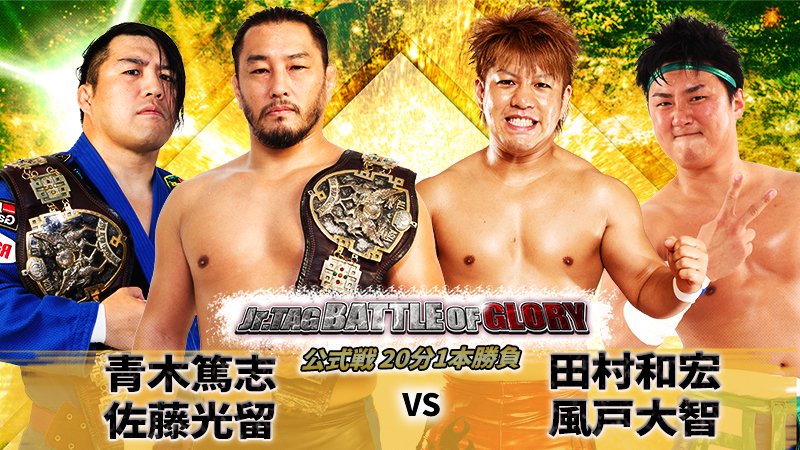 (4) Jr. TAG BATTLE OF GLORY Match: Atsushi Aoki & Hikaru Sato vs. Kazuhiro Tamura (HEAT-UP) & Daichi Kazato (BASARA)
◆Winner: Tamura (8:24) following a Sliding Axe Bomber from Kazato on Hikaru.
~ Tamura/Kazato [1 win, 1 loss = 2 points]
~ Aoki/Hikaru [1 win, 1 loss = 2 points]
~ Team Axe Bombers live up the name as the finish claims the win over the reigning Asia Tag champions.
(5) Jake Lee, Naoya Nomura & Yuma Aoyagi vs. "Magatsuki" Kengo Mashimo, Tank Nagai & Yuki Sato [all K-DOJO]
◆Winner: Mashimo (17:50) with the Mudo on Nomura.
~ Magatsuki claims the win over NEXTREAM as Mashimo and Tank look to carry the win into the Tag League next month.
(6) Kento Miyahara & Jun Akiyama vs. Suwama & Zeus
◆Winner: Miyahara (21:20) with a German Suplex Hold on Suwama.
~ Miyahara claims a revenge win against Suwama in prelude to the title match later this month.