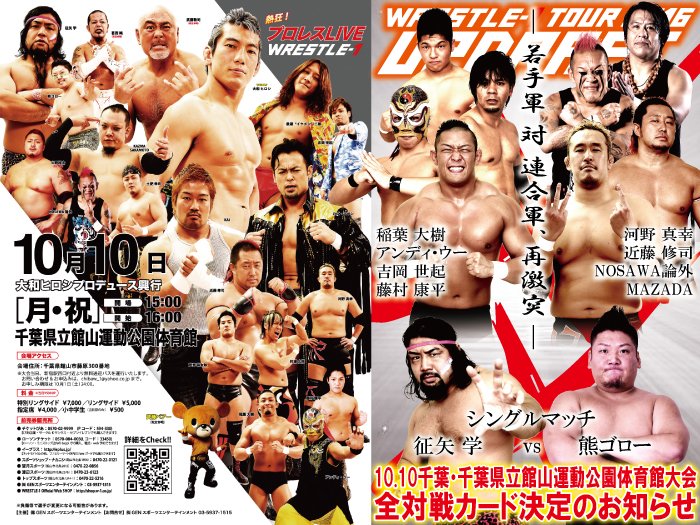 WRESTLE-1 TOUR 2016 UPDRAFT, 10/10/2016 [Mon] 16:00 @ Chiba Prefectural Tateyama Sports Park Gymnasium
(1) Koji Doi vs. Jay Freddie
◆Winner: Doi (11:08) following a Vertical Fall style Brainbuster.
(2) KAI & Hiroki Murase vs. Kotaro Suzuki & Sho Shindo
◆Winner: Murase (12:16) with a Boston Crab on Shindo.
(3) Yusuke Kodama & Seigo Tachibana vs. Kaz Hayashi & Jun Tonsho
◆Winner: Kodama (9:36) following the BK Buster on Tonsho.
(4) Jiro "Ikemen" Kuroshio vs. Yuji Hino
◆Winner: Hino (6:13) following the Fucking BOMB.
(5) Manabu Soya vs. Kumagoro
◆Winner: Soya (14:55) following the Wild Bomber.
(6) Daiki Inaba, Andy Wu, Seiki Yoshioka & Kohei Fujimura vs. Masayuki Kono, Shuji Kondo, NOSAWA Rongai & MAZADA
◆Winner: Kono (16:29) following a Running Knee Attack on Fujimura.
http://puroresuspirit.net/tag/w-1/
Upcoming…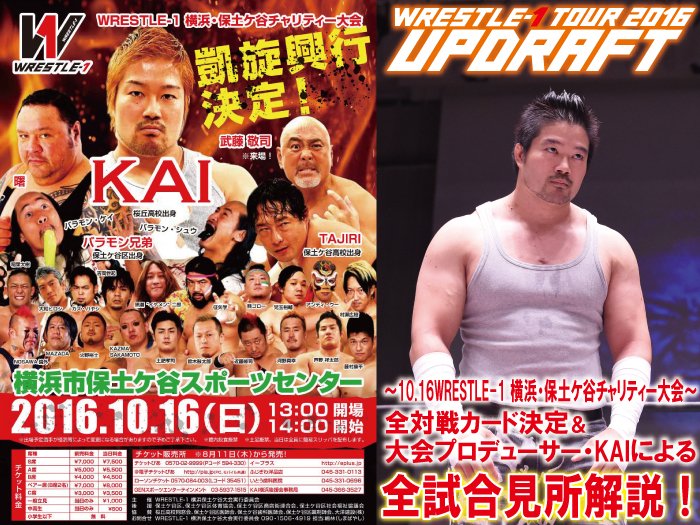 WRESTLE-1 TOUR 2016 UPDRAFT, 10/16/2016 [Sun] 14:00 @ Yokohama City Hodogaya Sports Center in Kanagawa
() Seiki Yoshioka vs. Kohei Fujimura
() Hiroki Murase & Masayuki Mitomi vs. Shuji Kondo & NOSAWA Rongai
() Jay Freddie vs. Shota vs. Amigo Suzuki
() Kaz Hayashi & Kotaro Suzuki [FREE] vs. Yusuke Kodama & Andy Wu
() Akebono [Oudou], Daiki Inaba & Kumagoro vs. Masayuki Kono, Yuji Hino & MAZADA
() TAJIRI [FREE] & Jiro "Ikemen" Kuroshio vs. Shu & Kei Brahman [both FREE]
() KAI & Koji Doi vs. Manabu Soya & Daisuke Sekimoto [BJW]
WRESTLE-1 TOUR AUTUMN BOUT, 11/2/2016 [Wed] 19:00 @ Korakuen Hall in Tokyo
() Special Tag Match: Keiji Mutoh & Jiro "Ikemen" Kuroshio vs. Konosuke Takeshita & Antonio Honda