KAIENTAI DOJO, 1/3/2016 [Sun] 13:00 @ Blue Field in Chiba
(1) Kaji Tomato. Shiori Asahi & Ayumu Honda vs. Ayato Yoshida, Dinosaur Takuma & GO Asakawa
◆Winner: Ayumu (9:28) with a Jumping Rolling Cross Armbar on Takuma.
(2) Daigoro Kashiwa vs. Kyu Mogami vs. Bambi
◆Winner: Kashiwa (5:26) via double pin-fall on Mogami & Bambi.
(3) TAKA Michinoku & Ricky Fuji vs. Yoshihiro Horaguchi & Kotaro Yoshino
◆Winner: TAKA (9:23) with the Just Face Lock on Horaguchi.
(4) Hiro Tonai & Taishi Takizawa vs. Tank Nagai & Kengo Mashimo
◆Winner: Tank (19:29) following a Spear Tackle on Takizawa.
(5) WEW Hardcore Tag Championship Match: [Champions] Ryuichi Sekine & Kotaro Nasu vs. [Challengers] Yuki Sato & Yuma
◆Winner: Sekine (18:20) following the Dragon Shoot on Yuma.
~ 1st successful title defense.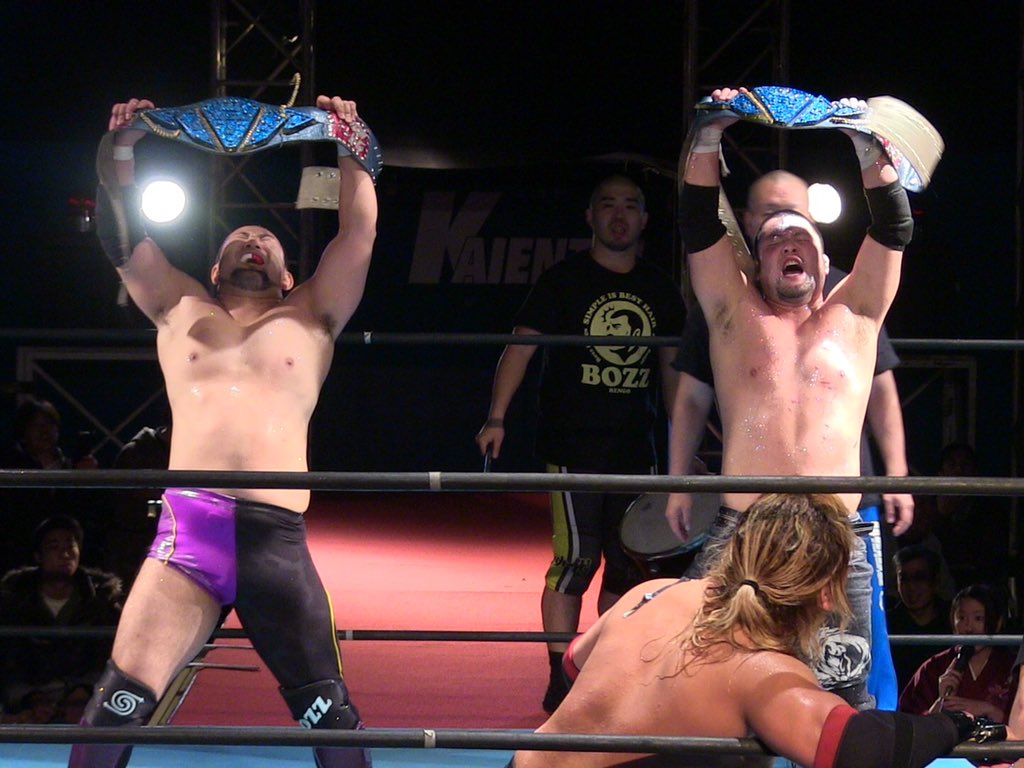 (6) Lottery Scramble Time Difference Battle Royal: Yoshino, Asahi, Takuma, Horaguchi, Kashiwa, Sekine, Yoshida, Yuma, Mogami, Kaji, Takizawa, Ayumu, TAKA, Tonai, Tank, Yuki, Fuji, Mashimo, Asakawa, Bambi, Kotaro Nasu, Marines Mask, and Hibagon
~ Special Rules: Winner earns first challenge rights. Second challenge rights go to the first to claim a pin-fall. Third challenge rights go to the first to claim a submission win. A special gift will also go to one who can eliminate Hibagon.
~ Asahi pinned Kashiwa to claim the 2nd challenge rights.
~ Mogami submitted Yuma to claim the 3rd challenge rights.
~ Bambi eliminated Hibagon.
◆Winner: Takizawa (33:24) with a Tiger Driver on Yuki Sato.
~ Takizawa claims the first challenge rights.
~ Takizawa claimed the right to challenge for the CHAMPION OF STRONGEST-K belt.
~ Asahi claimed a shot at the STRONGEST-K TAG belts.
~ Mogami claimed a shot that the UWA World Middleweight belt.
~ For beating Hibagon, Bambi won the right to have her own self-produced show.
http://puroresuspirit.net/tag/k-dojo/
Upcoming…

KAIENTAI DOJO, 1/10/2016 [Sun] @ TKP Garden City Chiba
() Kyu Mogami & Dinosaur Takuma vs. GO Asakaws & Ayato Yoshida
() TAKA Michinoku, Ricky Fuji & Hi69 vs. Taishi Takizawa, Kotaro Yoshino & Yoshihiro Horaguchi
() Bambi & Koharu Hinata vs. SAKI & Manami Kanda
() Saburo Inematsu & Daigoro Kashiwa vs. Kunio Toshima & Yuma
() Ayumu Honda 5 Match Series – Match #1: Ayumu Honda vs. Kazuhiro Tamura
() Independent World Junior Heavyweight Championship Match: [Champion] Shiori Asahi vs. [Challenger] Kaji Tomato
(-) STRONGEST-K Tag Championship: [Champions] Kengo Mashimo & Yuki Sato vs. [Challengers] Ryuichi Sekine & Kotaro Nasu
(-) CHAMPION OF STRONGEST-K Championship: [Champion] Tank Nagai vs. [Challenger] Hiro Tonai