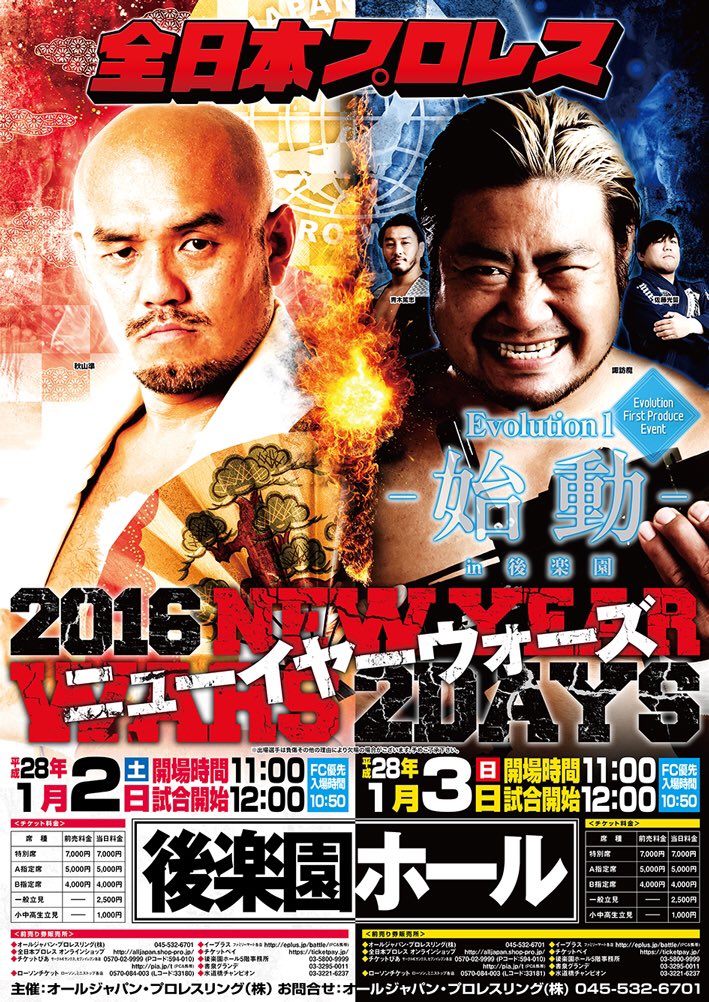 All Japan Pro Wrestling "2016 New Years 2 Days ~ Evolution 1 – Start ~ Evolution First Produce Event", 1/3/2016 [Sun] 12:00 @ Korakuen Hall in Tokyo
(1) Evolution Opening Bout: Ultimo Dragon vs. Keiichi Sato
◆Winner: Dragon (6:55) with a La Magistral.
(2) Aoki Produce "Be Armed Today!!" Tag Match: Takao Omori, Yuma Aoyagi vs. Hoshitango [DDT] & Hiroshi Fukuda [BASARA]
◆Winner: Hoshitango (6:44) with an Argentine Backbreaker on Aoyagi.
(3) Suwama Produce "Mystery of the Beautiful Woman" Special Lottery 6 Man Tag Match: Masanobu Fuchi, SUSHI & SUSHI☆Kozou vs. Shigehiro Irie, Keisuke Ishii & Soma Takao [all DDT]
◆Winner: Irie (11:50) with the Best Splash on SUSHI.
~ Irie's received a prize in the form of a kiss from a beautiful woman after the match.
(4) "Try to show the Modern Style": Jun Akiyama vs. Jake Lee
◆Winner: Akiyama (9:16) following a Running Knee.
~ Lee stated that he shall become stronger following this loss.
(5) Hikaru Sato Produce Hard Hit Rule "Captain vs Boss": Atsushi Aoki vs. Yoshiaki Fujiwara [Fujiwara-gumi]
◆Winner: DRAW (15:00) Time Expired.
~ The grappling veteran showed a lot of respect to Aoki following the match.
~ Hikaru Sato acted as the special entrance ring announcer for the match.
(6) "Ganbare Nomura-kun!!" GAORA TV Championship Match: [7th Champion] Yohei Nakajima vs. [Challenger] Naoya Nomura
◆Winner: Yohei (12:22) following a Jumping Spin Kick.
~ 1st successful title defense.
~ Yuma Aoyagi came out to challenge the champion following the match. Yohei accepted the challenge.
(7) Special 6 Man Tag Elimination Match "Defeat Everyone! Osu!": Suwama, Hikaru Sato [Pancrase MISSION] & Codename G (Ghilli Man) vs. Kento Miyahara, Zeus & Shuji Ishikawa [FREE]
◆Winner: Miyahara (23:59) with the Shutdown style German Suplex Hold on Suwama.
~ Miyahara claims the victory over the newly crowned Triple Crown champion and thus challenged him following the match.
~ The match has been made official for the 2/12 at Korakuen Hall.
~ It was also announced that Suwama & Nomura will be taking on Kento & Lee on 2/13 to determine the next contenders for the World Tag belts on 2/21 in Osaka.
~ Jake Lee vs. Naoya Nomura will compete in a singles match on 2/12 as well.
AJPW Event Cards for January & February 2016
http://puroresuspirit.net/2016/01/ajpw-event-cards-for-january-february-2016/